Who is Jim Tisch?
He's known best for beating the world's greatest investor – Warren Buffett – at his own game…
Tisch became CEO of holding company Loews Corp. (L) in the late 1990s. Since then, he's beaten Buffett's Berkshire Hathaway in terms of "book value" (shareholder value), Buffett's favorite performance barometer.
[ad#Google Adsense 336×280-IA]Tisch grew Loews' book value by 10% a year from 1998 (when he took over) through 2011.
But Buffett only grew Berkshire's book value by 8% in that same time.
Beating Buffett by 2% a year might not sound like much… But that kind of outperformance really "compounds" over time.
So Tisch's share price has dramatically outperformed Buffett's as well…
While the stock market has been relatively flat since 2000, Berkshire has risen over 100%. Loews is up by nearly 400% in that time – a truly incredible performance.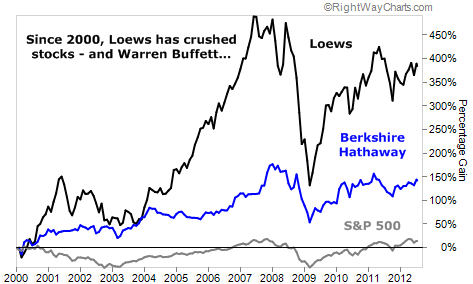 What's Tisch's secret?
Like Buffett, he has had great success buying incredible values at just the right price.
And what I love is that Tisch has done it in an uncomplicated way… using his simple "$5 million test" to make many times his money…
"What is the 'Jim Tisch $5 million test'?" you may ask.
Tisch explained how it works in a speech he gave a few years ago at Columbia University. He used his personal experience of buying oil supertankers in the early 1980s…
While on the ship, you look to the front and then you look to the rear… Then you look to the right and then to the left… Then you scratch your head and say to yourself – "Gee! You mean you get all this for $5 million?!" Just to give you some perspective, these ships – capable of hauling 2-3 million barrels of oil – had been built eight years earlier for a cost of over $50 million…
At the time, those ships were literally selling for less than their scrap metal value. So Tisch bought them up. Less than a decade later, he basically sold them for 10 times his purchase price. Not a bad trade!
Tisch used his "$5 million test" again in 1990…
We took a trip to the Gulf of Mexico where we went aboard a jack-up oil rig and, yes, we applied the Jim Tisch $5 Million Dollar Test. Remember? You look to the front – you look to the back – you know the rest. A few weeks later, we had bought an offshore rig company named Diamond M, and became the proud owners of 10 drilling rigs for a total investment of about $50 million.
Today, a single offshore oil rig costs around $750 million. So at $5 million each, Tisch made out pretty well. (Tisch ended up buying 39 rigs… and his company became Diamond Offshore Drilling.)
Tisch was not an oil expert going into this. He just saw value, plain and simple…
The first lesson is to keep it simple. In all of our energy investments, the basic analysis was not particularly complicated… Besides keeping it simple, it is important to remember that the consensus is oftentimes wrong…
Finally, patience is one of the most important virtues for making any value investment… they can take time to develop and mature. In the case of tankers and rigs, that meant using no leverage to buy the assets."
(You can read the full Columbia speech here.)
I am personally applying Tisch's "$5 million test" (on a smaller scale) as I size up real estate opportunities in Northeast Florida. Jim was no expert in oil when he bought – he just saw incredible value. I am no expert in real estate here… I just see incredible value.
Sometimes you can keep it simple. The basic analysis doesn't have to be complicated.
One of the knocks against Tisch (and Loews Corp.) these days, is that he hasn't done a big deal (like the ones above) in a while.
But that's fine with me. I know when the time comes and he puts his thumb in the air, applies his $5 million test, and something passes, investors will be better off.
Don't complicate your investing decisions…
Tisch has beaten the world's greatest investor by keeping it simple, waiting until he sees incredible value, and then buying.
Keep it simple. Follow Tisch's lead. And maybe you, too, can beat Buffett…
Good investing,
Steve
[ad#jack p.s.]
Source: Daily Wealth