Stocks have gone nowhere over the past year.
The S&P 500 closed yesterday just about where it was on July 10, 2011. So buy-and-hold investors have little to show for their efforts.
Traders, on the other hand, have had plenty of chances to profit. You just had to pick the right time to buy and have your shopping list ready ahead of time…
[ad#Google Adsense 336×280-IA]Last year, for example, we pointed out several buying opportunities here, here, and here.
Each of those buy points came on the heels of sharp market selloffs and resulted in immediate 7%-20% gains.
But you had to act fast. And you had to be ready BEFORE the market sold off.
Now, I'm telling you again – get ready.
Stocks are poised for another quick selloff.
And if history repeats, any sharp decline in July could lead to a late-summer rally. Take a look at this chart of the S&P 500…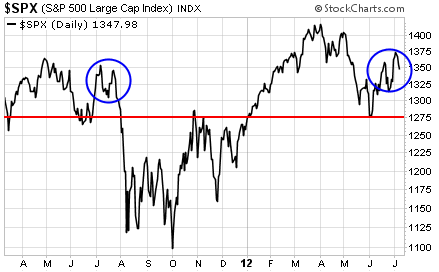 The blue circles show the similarity between the action over the past month and that of July 2011. The red line marks the key support level at 1,275.
At the very least, stocks should come back down and retest the early June low at about 1,275. Right now, it looks like that level will hold, and traders should get ready to buy at 1,275. But it all depends on how a handful of technical indicators look when we get to that point.
For example, the McClellan Oscillator – which was overbought last Thursday and hinted at a strong decline – has fallen into neutral territory. Another 50-point drop or so in the S&P 500 should be more than enough to push the Oscillator into "oversold" territory and signal the potential for a rebound. Other indicators show the same thing. But we won't know for sure until we reach that point.
The only thing we do know for sure is last year, the biggest gains from "rebound rallies" happened in the first few days of the rally. Traders who didn't prepare ahead of time got left behind.
Even though the market appears poised for a sharp decline over the next week or two, now is the time to get ready for an imminent rally phase.
Don't buy anything yet – just get your list together. I'll let you know when I think the time is right to go shopping.
Best regards and good trading,
Jeff Clark
[ad#jack p.s.]
Source: The Growth Stock Wire