Oil stocks today look just like gold stocks did last month.
You remember how the gold sector was set up last month, right? The sector was brutally oversold. Many gold stocks were trading at valuation levels we hadn't seen in years. They were lagging way behind the action in the metal. And even the most die-hard gold bugs were giving up on the mining stocks.
Now, of course, we know last month was an ideal time to buy gold shares. (My S&A Short Report subscribers booked a 112% gain on major gold producer Seabridge Gold in just two days.)
[ad#Google Adsense 336×280-IA]So the question is… If you had the chance to buy into that setup again, would you do it?
It looks like we're going to have that chance in the oil sector.
Oil stocks look like death.
The AMEX oil index is down 10% in the past two months.
It's down almost 20% since March.
Oil services giants like Halliburton (HAL) and Baker Hughes (BHI) are trading at less than 10 times earnings. It's hard to find any analyst, anywhere, who'll say something good about the sector.
And as we saw with gold stocks last month, the bullish percent index for the oil sector (BPENER) has just whipsawed into, out of, and back into a buy signal.
Take a look…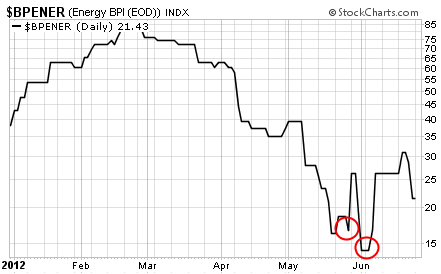 Remember… a bullish percent index (BPI) measures the percentage of stocks in a sector that are trading with bullish point-and-figure chart patterns. A BPI is typically overbought when it rallies above 80, and it's oversold when it drops below 30.
Buy signals occur when a BPI drops into oversold territory (below 30) and then turns higher.
The red circles on the chart above represent buy signals. As you can see, BPENER triggered a buy signal in late May. But that signal reversed – similar to what happened to gold stocks in early May – and BPENER dropped to a lower low.
We got a second buy signal earlier this month.
This is nearly identical to the action we saw in the gold sector bullish percent index last month. In fact, the whole setup is nearly identical.
The only problem is that this latest buy signal reversed as well. But I'm watching this for another turn higher to signal a good time to buy.
Oil stocks are brutally oversold. They're trading at dirt-cheap valuations we haven't seen in years. Sentiment toward the sector is bearish.
This may not be the absolute bottom for the oil sector. But we're close to at least a short-term bounce.
Best regards and good trading,
Jeff Clark
[ad#jack p.s.]
Source: The Growth Stock Wire