A NEW BUY SIGNAL FOR OIL STOCKS
The oil sector looks like death.
The AMEX oil index is down 10% in the past month and almost 20% since March.
Many oil companies, including oil-services giants Halliburton (HAL) and Baker Hughes (BHI), are trading at less than 10 times earnings.
[ad#Google Adsense 336×280-IA]It's hard to find any analyst, anywhere, who'll say something good about the sector.
And the bullish percent index for the oil sector (BPENER) has just whipsawed into, out of, and back into a buy signal.
A bullish percent index (or "BPI") measures the percentage of stocks in a sector that are trading in a bullish pattern.
A BPI is typically overbought when it rallies above 80, and it's oversold when it drops below 30.
Buy signals occur when the BPI turns up from oversold levels.
The blue circles on the chart below represent buy signals.
As you can see, BPENER triggered a buy signal in late May. But that signal reversed, and the BPI dropped to a lower low.
We got a second buy signal last week. Oil stocks are brutally oversold. They're dirt-cheap.
Sentiment toward the sector is bearish. And we just got a rare "double buy" signal from the BPENER.
– Jeff Clark
P.S. I just recommended my favorite oil trade to my S&A Short Report subscribers. If its bullish chart pattern plays out as I expect, it could return 167% gains over the next few weeks… To find out more about subscribing to my newsletter – and learn how to get access to this trade – click here.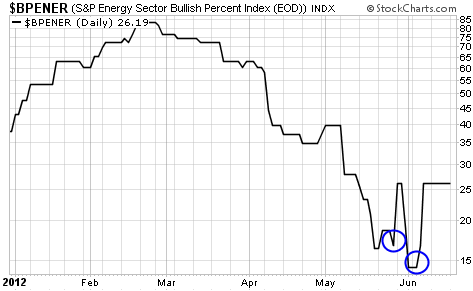 Source: Daily Wealth