China bulls look out. There's trouble brewing in Shanghai… again.
It has been just over a year since we last took a look at the Shanghai Stock Exchange Composite Index.
Back then, the index had just broken down from a long-term consolidating-triangle pattern.
That was a bearish development, and we figured the Shanghai Index could be headed as low as 2,200 or so later in the year.
Sure enough, the Shanghai Index tagged 2,200 last December. It has been rallying since then. And today, it's 6% higher than where it started the year.
But it's unlikely to hold on to those gains. Take a look at this chart…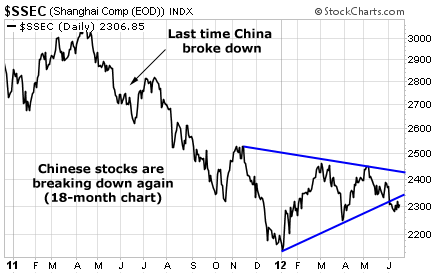 Here we go again…
[ad#Google Adsense 336×280-IA]The Shanghai Index has broken down from another consolidating-triangle pattern.
While the index may bounce back up in the short term and test the former support line of the pattern, the break down is quite bearish.
It projects a price target of about 2,000 for the index.
That's a 13% drop from current levels – just above the financial panic low of 1,800 back in 2008.
If you're bearish on China, you should use any rallies back up toward 2,350 to establish short positions. Buying shares of ProShares Short FTSE China 25 (YXI) is one way to establish a "short China" trade.
YXI is designed to move in the opposite direction of China's stock market. So as Chinese stocks fall, YXI goes up.
But if you're a China bull, you may want to close your eyes for the next few months. It's about to get even uglier over there.
Best regards and good trading,
Jeff Clark
[ad#jack p.s.]
Source: The Growth Stock Wire