Business is good for cashing golden royalty checks these days…
Not even the huge gold stock selloff has derailed one of my favorite gold investments. And if you're looking for a safe precious metals investment, you should start your search with this idea.
Regular DailyWealth readers are familiar with the idea of precious metal royalty companies. "Royalty" companies don't mine any gold or silver of their own. Instead, they finance lots of early-stage mining projects, then earn royalties on mine production if things work out.
[ad#Google Adsense 336×280-IA]This is a safer, more diversified way to invest in the gold-mining business, rather than owning a company focused on one big strike.
Major precious metal royalty firms include Franco-Nevada (FNV), Royal Gold (RGLD), and Silver Wheaton (SLW).
With gold over $1,500 an ounce right now, these businesses are minting money…
And they've turned in amazing share price performances over the past few months…
Take Royal Gold for example…
Royal Gold is the perfect example of a royalty company. It holds 38 producing royalties, 25 in development, and another 128 that are still under exploration. The company's share of the reserves comes to 5.4 million ounces of gold and 53 million ounces of silver.
And those assets generated a ton of cash for Royal Gold in 2011… It raked in $216 million in revenue and converted $186 million to earnings. That's an incredible 86% profit margin. And things are looking better so far in 2012.
In the first three quarters of 2012, Royal Gold brought in $203 million in revenue and $180 million in earnings. According to Bloomberg, money managers estimate that Royal Gold's revenue will hit $275 million with earnings of $242 million this year.
Royal Gold's stable business model and big cash flows have allowed it to do something amazing this year. As you probably know, gold stocks were hammered this spring. The benchmark gold stock index (the HUI) fell 32% in just three months from late February to mid-May. Today, the index is 18% below that February high, and many gold companies are trading near their yearly lows. It's been a wipeout move.
But not for Royal Gold shareholders…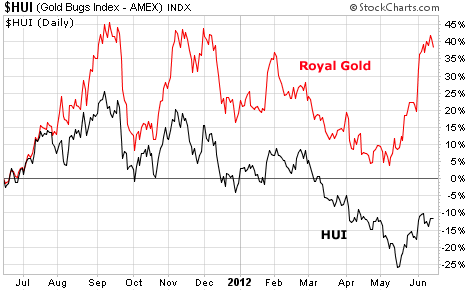 As you can see in the chart above, Royal Gold (red line) is actually up 40% over the past 12 months, while the HUI (black line) is down 10%.
The company's share price didn't fall nearly as far as the HUI in May. And it soared off that recent low. Today it is close to a 52-week high, 2% above its February levels and heading higher.
It's extremely bullish when a stock holds steady while its industry competitors suffer huge losses. That's what we're seeing from Royal Gold right now. Its high-margin business model is producing lots of cash… which causes big investors to flock toward shares.
Should gold simply hold steady at these levels or march higher, Royal Gold (RGLD) is a great place to be for gold investors.
Good investing,
Matt Badiali
[ad#jack p.s.]
Source: Daily Wealth