You can own tech giant Cisco (CSCO) for free…
Just buy it today, and hold it for five years.
Over those five years, Cisco's earnings will have been enough to buy itself completely.
It's absolutely crazy… but true.
Let me explain…
[ad#Google Adsense 336×280-IA]When I size up an investment, I look at my "payback period"…
I think, if I were to buy this as a private business, when would the earnings from my investment completely pay off that investment?
For example, if you buy a rental property for $100,000, and you collect $5,000 a year in rent (after expenses), your payback period is 20 years.
After 20 years, the rent has paid for the property, and all the rest of your rent is "gravy" – it's free money.
In Cisco's case, you don't have to wait 20 years for the "gravy." The free money comes in five years…
You see, as I write, shares of Cisco are about $16 apiece. The thing is, about $6 of that price is simply Cisco's "net cash." (Net cash, to me, is cash plus securities minus long-term debt.)
So the stock market is valuing Cisco's business – minus net cash – at just $10 a share.
Over the next five years, Cisco's annual earnings should average over $2 per share. So Cisco's earnings will pay off your stock purchase in just five years. Everything it earns beyond that is gravy.
My point is: Cisco is dirt-cheap. The truly "dirt" cheap part of it is masked by the incredible amount of net cash Cisco has: $32 billion. That is a LOT of cash… especially considering Cisco's market value is "only" about $87 billion.
And Cisco is not alone…
Most of the major tech companies like Cisco are each sitting on mountains of cash…
Cisco (CSCO) is the eighth-biggest company in the Dow Jones Technology Index. Every company above it on the list (except IBM) has an absolute war chest of net cash. Apple (AAPL) is the king of the hill, with over $100 billion in net cash. Microsoft (MSFT) and Google (GOOG) have much more cash than Cisco. And Qualcomm (QCOM) is not far behind.
After you subtract out net cash, ALL of these names I've mentioned are trading at less than 10 times their future earnings.
In plain English, that means your payback period if you were buying the businesses privately (as I explained above) would be less than 10 years.
That is a crazy-cheap price for the biggest tech names in the entire world.
You might think that – at such cheap prices – these businesses have stopped growing. But it's not true…
As you can see in the chart below, the stock prices have stopped going up. But the underlying business (the book value) has kept marching relentlessly higher. Take a look: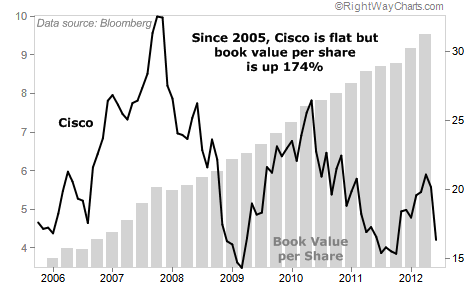 Compared to book value, Cisco is now the cheapest it's ever been. And it's just one example of Big Tech. Nearly all the big names are cheap.
The simplest way to get exposure to all of them is through the iShares Dow Jones Technology Fund (IYW). It is heavily weighted in the large, cheap names.
If you are bold, you could buy today. Big Tech companies are off-the-charts cheap, which should give you a margin of safety.
Trying to buy with the market in freefall, though, is like trying to catch a falling knife. It's safer to let it settle down and wait for any semblance of an uptrend here…
You might miss the first 10%-15% of the move. But that's fine… From levels this cheap, the move could be hundreds of percent.
Good investing,
Steve
[ad#jack p.s.]
Source: Daily Wealth