Get ready for a rally in platinum.
In the next year, we're going to see platinum soar in value.
It will outperform gold and silver by several times. Let me explain…
Platinum is a rare metal. All the platinum mined in history would fit in an average living room. The world's mines will produce 6.1 million ounces of platinum this year. That's just 7.5% of the annual gold production.
[ad#Google Adsense 336×280-IA]It's also an economically important metal.
The automotive industry uses nearly 75% of the world's platinum supply to make catalytic converters, which reduce the pollutants in exhaust.
China and India are just beginning to use platinum catalysts in their vehicles.
And that demand will continue to grow.
But uncertainty about the world economy has hammered platinum prices over the last year. Take a look…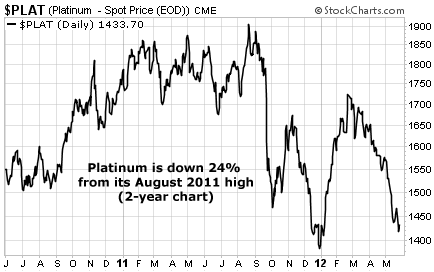 Today, platinum is selling for just $1,433 per ounce, nearly $150 less than an ounce of gold.
Hedge funds have dumped the metal over the last three months. The total number of long futures contracts fell from 28,350 in February 2012 to 13,000 today. That means 54% of investors unloaded their positions in platinum.
Investor sentiment is now as low as it was in early 2009, in the thick of the financial crisis. And there is clearly no uptrend yet. So why do I believe the platinum price is heading higher?
Most of the world's platinum production, about 75%, comes from South Africa. South African platinum mines spend an average of $1,437 per ounce to produce platinum. In other words, the current price isn't sustainable. Producers are losing money on each ounce they sell.
Eventually, they'll quit mining or go bankrupt. No one will build new platinum mines. That will reduce supply… and support higher prices. We're already seeing supply fall…
Impala, the world's second-largest platinum producer, saw its third-quarter output fall 46% due to a strike. According to a recent Bloomberg report, South Africa's platinum production will fall 4% this year.
Investors who want to speculate in platinum have several options. There are mining companies, physical bullion, and some bullion funds.
Most of the mining companies operate in South Africa, and we want to avoid them. They are facing social problems, infrastructure problems, and production problems. Even a rising platinum price won't benefit them enough to offset the risks you'll be taking.
Physical bullion is easy to get. Investors can buy coins and bars. However, it's critical to pay as small a commission as possible.
Probably the easiest way to speculate on a surging platinum price is to use an exchange traded fund like the iPath Platinum Fund (PGM). PGM uses futures contracts to track the price of platinum. Unlike many futures funds, it does a fair job tracking the platinum price.
If you don't like futures funds, the resource-investing experts at Sprott are launching a platinum bullion fund soon. According to expert resource investor Rick Rule, whose company was acquired by Sprott last year, it should begin trading sometime this summer.
Remember, the uptrend hasn't shown up yet. So I'm waiting for now. But I'm watching close for the first sign of a rising platinum price – a series of "higher highs and higher lows." That will be our sign to get in.
Good investing,
Matt Badiali
[ad#jack p.s.]
Source: The Growth Stock Wire