Reality is finally taking hold in the oil market.
Back in early April, I warned Growth Stock Wire readers that conditions supported a drop in oil prices…
It took a little while, but as you can see in the chart below, oil prices are in a rout.
The price of benchmark U.S. West Texas Intermediate crude oil is down 12% since May 1.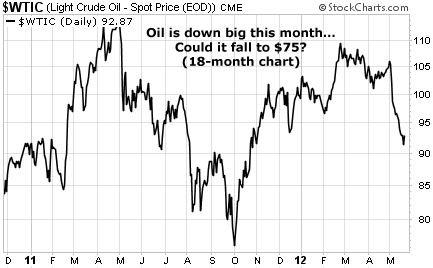 It was inevitable. The world's largest oil consumer, the U.S., is sitting on a whole lot of oil. As I explained last month, oil inventories are way over average. And they've continued to increase.
[ad#Google Adsense 336×280-IA]Last month, the oil inventory was about 40.6 million barrels above the 10-year average for April.
In May, the inventory rose to 45.8 million barrels above the 10-year average for May. And as of last week, U.S. oil inventories were at a 22-year high.
That's why the current price was unsustainable.
There's too much supply… and there's more coming. According to the Energy Information Administration, U.S. crude production in 2012 will be the highest since 1998. We will produce an average of 6.2 million barrels per day this year. That's 500,000 barrels per day higher than last year.
So how low can prices fall?
We saw a similar situation back in 2011. We hit a record of 41.9 million barrels in storage in April that year. As you can see in the chart above, prices reacted by collapsing to $75 per barrel by October.
While there's no guarantee that oil prices will fall as far today as they did in 2011, the fundamentals are certainly in favor of it. And they're taking oil companies down with them.
The AMEX Oil Index (XOI) – which tracks the largest oil companies in the industry – is down almost 13% since April 2. It's down 17% from its high in February.
As I told you last month, tighten your stops and take profits. The best thing to do right now is sit on the sidelines and monitor the trend.
I'm also putting together our "wish list" for oil companies. When the oil trend shifts back to bullish, oil stocks will rebound, too.
Good investing,
Matt Badiali
[ad#jack p.s.]
Source: The Growth Stock Wire