There isn't any blood in the streets yet… So longer-term investors may have to wait a few more months before following Baron Rothschild's advice on when to buy stocks.
But the stock market is bruised enough that traders can profit from a bounce.
Look at this chart of the NYSE McClellan Oscillator…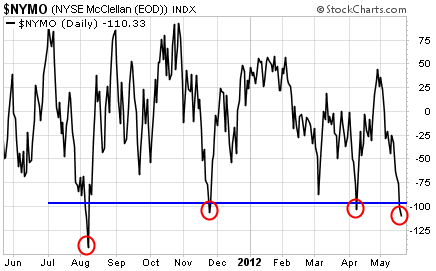 The McClellan Oscillator is a momentum indicator that compares advancing and declining issues and illustrates overbought and oversold conditions. At -100, the blue line shows when the stock market has reached "extreme" oversold levels. The red circles mark each of the four times stocks have hit this level over the past year.
Here's how the S&P 500 performed after each time…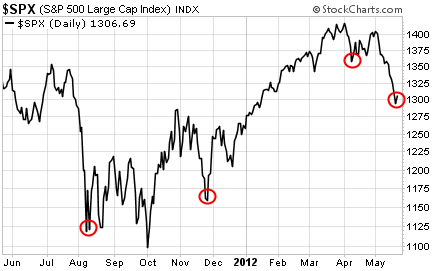 The McClellan Oscillator didn't always nail the exact low of the stock market. But stocks bounced hard following each of the three previous extreme oversold readings… So betting on a bounce looks like a pretty good trade right now.
[ad#Google Adsense 336×280-IA]But it's important to remember that it'll still be just a bounce.
The market appears to be acting out the same script it played last year.
As long as that condition persists, we should expect an autumn decline to follow a summertime rally.
Long-term investors may want to stay on the sidelines a while longer.
So far, the cliché "Sell in May and go away" is turning out to be a good strategy.
But if you've been anxious to put money to work in the stock market, now is the best time to do so since the beginning of the year.
Traders should be buying stocks right now… with the idea of selling into any rally that develops over the next several weeks. Stocks are oversold and in a position to bounce, just like they have the past few times they've been in this position.
A good bounce from here could push the S&P 500 back up toward the 1,375 level. That's nearly an 8% gain from where the market closed on Friday. And it's worth a trade.
Best regards and good trading,
Jeff Clark
[ad#jack p.s.]
Source: The Growth Stock Wire