There's a big debate going on in the housing market.
Skeptics will say there is an oversupply… that more foreclosures are just months away from flooding the market… That housing can't rise until the supply overhang is removed.
I believe the facts show just the opposite. They show now is a fantastic time to buy a home.
[ad#Google Adsense 336×280-IA]Prices are cheap. And with record-low mortgage rates, housing is now more affordable than ever.
Today, I'll share a new piece of evidence for the incredible value in housing.
It clearly shows that housing is an even better deal than you thought – that buying today gets you in $44,200 below fair value.
Let me explain…
To understand the true value in housing, you have to understand one thing: today's homes are near the largest in history…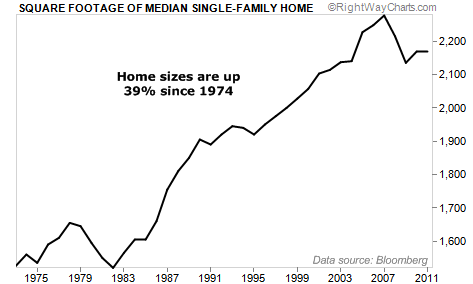 Since 1974, the size of a new home is up 39%. Back then, the median size of a new home was 1,560 square feet. Today, it's 2,169 square feet.
So the fair way to compare today's prices to history is to look at price per square foot. When we adjust this figure for inflation, it's easy to see just how cheap housing is today…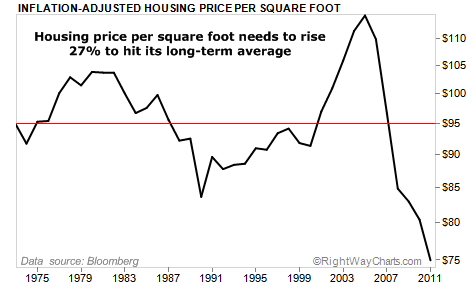 As the chart shows, the price per square foot of a home in America – in "real" terms – is at record lows.
The historic average price is $95 a square foot. Today, we're at $75 a square foot. Housing prices would have to rise 27% just to get back to average.
Today's price for the median existing single-family home is $163,800. So a 27% increase means a $44,200 capital gain. And remember, capital gains on your primary residence are tax-free.
This is just one small piece of the argument for housing. The facts are simple:
Home prices have crashed by one-third.
Meanwhile, mortgage rates have crashed to all-time lows, currently 3.75%.
Housing is at all-time highs in affordability.
We add it all up and the conclusion is simple… housing is the ultimate no-brainer investment to make today.
We're in a situation where just a "return to normal" would mean a $44,200 rise in the price of the median home in America. But as my colleague Steve Sjuggerud has shown, housing prices could soar even beyond that level…
Sure, the skeptics will make you believe housing can't go up. But the facts show the opposite. From today's prices, it's hard to see how housing could possibly go down.
Housing is at all-time low prices based on price per square foot. And needs to rise $44,200 just to get to fair value.
These conditions won't hang around forever. So if you're in the position to buy a home, now is the time to act.
Good investing,
Brett
[ad#jack p.s.]
Source: Daily Wealth