This particular country's stocks have to rise by 257%…
… just to be in line with a benchmark U.S. index.
Today, I'll share a safe, simple strategy with you, with limited downside risk (you're risking less than 10%) – and triple-digit upside potential.
And this trade is not in some small, obscure country…
[ad#Google Adsense 336×280-IA]I'm talking about Japan – one of the world's largest countries.
And the trade I recommend is a basket of Japanese stocks that trade on the U.S. stock market as an exchange-traded fund (ETF).
Japanese small-cap stocks (shares in smaller companies) are the best-kept secret on earth…
On average, they'd have to climb 257% to be in-line with the valuation of the Nasdaq Index, which holds a lot of small-cap U.S. stocks. Take a look:
Japanese stocks would have to soar by triple digits based on these major measures of value. (The average of these three numbers is 257%.)
In my opinion, the Nasdaq is not even very expensive. Japan is just SO cheap.
The last time Japanese stocks were this cheap was in the 1970s… And they absolutely soared…
For example, in 1971, the dividend yield on Japanese stocks was 3.5%. In the following year, Japanese stocks jumped 117%.
Today, the dividend yield in Japan is above 2%. That might not sound like much compared to 3.5% at the end of 1971… But it is the highest dividend yield in Japan since the 1970s.
More importantly, on a RELATIVE basis, this is the best value Japanese stocks have ever been.
For proof, take a look at this next chart, which shows Japanese stock dividend yields versus Japanese government bond yields. Right now, you get paid more in dividend yield than you do in bond yield:
It is crazy. Bonds pay less than 1% interest in Japan today. Meanwhile, stocks pay a dividend of greater than 2%. It's only a matter of time before Japanese investors start moving out of bonds and into stocks. They ought to do it sooner than later… It's the right thing to do.
Japanese investors have another good reason to buy as well… Based on the price-to-book ratio – a simple, clear measure of value – Japanese stocks are cheaper than they've been in decades.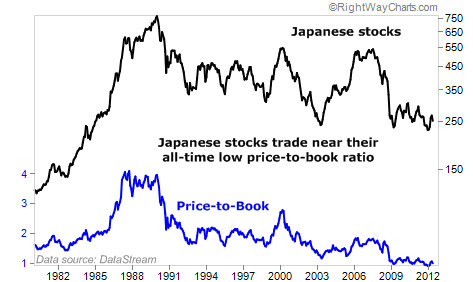 My True Wealth Systems numbers "only" go back 30 or so years. But as you can see, right now, Japanese stocks are bumping along levels that are as cheap as they've ever been.
Right now, we don't have an uptrend in place in Japan. I normally don't buy when I don't have a glimmer of an uptrend.
However, on my True Wealth newsletter's recommended list, I have shares of the WisdomTree Japan SmallCap Dividend Fund (DFJ). This ETF mimics the Japanese small-cap index. And there's a low-risk strategy for DFJ that could really make you some big money…
This fund trades at around $42 as I write. You could buy it today and set a stop loss at $38… That's the low that was hit when the tsunami struck Japan in March 2011, and it's also the 2010 low. If DFJ falls below $38, something is really wrong… And it's time to move along.
So you're risking a loss of less than 10%. But the important thing here is, your upside is hundreds of percent.
In short, you ought to own Japan… And with DFJ, you have an easy way to minimize your downside risk and maximize your gains.
Good investing,
Steve
[ad#jack p.s.]
Source: Daily Wealth