The rout in junior resource stocks just took another serious leg down…
We were watching the TSX Venture Exchange index – the benchmark for small exploration and mining stocks. We identified two bearish milestones.
We blew through the first one in late March. We just crashed through the second on Monday.
Now things are going to get really dangerous for investors…
The Venture is down 46% from its March 2011 high. It has dropped below its 120-day moving average (DMA), a standard trend measurement. And as of Monday, it's below its October 2011 low, a major breakdown…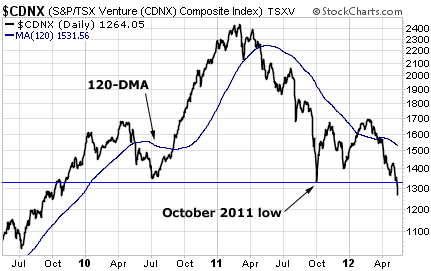 With prices down so far, you might think it's time to bargain shop. But it's likely things will get worse before they get better…
[ad#Google Adsense 336×280-IA]You see, junior resource stocks have a unique business model.
Exploration work is expensive.
These companies need to raise money to do it… But they have no assets or earnings.
The only thing they have to sell is stock.
According to John Kaiser, a respected analyst who writes the Kaiser Bottom Fish Report, 53% of the 1,432 stocks in the Venture trade for under C$0.20 per share… and have a median of C$500,000 in the bank.
Here's why that's important…
Let's imagine a hypothetical company, Bob's Exploration Co. It has 50 million shares outstanding. It's fallen 45% from its high of $0.44 a share to just $0.20 a share today. But it has an exciting gold project that it plans to drill this year.
Bob's Exploration spends $500,000 per year on salaries, fancy digs, and office coffee. And it spends another $1 million per year drilling for gold. But right now, the company has less than $500,000 in the bank. To complete this summer's drilling program, it has to issue new shares.
That's a problem…
At $0.20 per share, it takes an awful lot of new shares (5 million to be exact) to raise $1 million. Since the company has 50 million shares outstanding, that represents a 10% "dilution" to existing shareholders. In other words, each share is worth 10% less than it was before.
But it gets worse…
Stockbrokers are the only people who can take 5 million new shares from a company. They won't do it at the market price without some sort of compensation. And today, with the market falling week in and week out, they need extra compensation. That comes in the form of "warrants," typically one for every new share issued.
A warrant is like an option to buy more shares from the company at a fixed price for a period of time. If the share price soars, the brokers will exercise their warrants and buy more shares. Existing shareholders would end up taking a 20% dilution.
That's why a bad situation could get much worse. Junior resource companies need to raise money. They have to sell stock to do it. And shares are cheap… so they're going to end up selling a lot of stock.
One company, White Tiger, plans to dilute its shares by 30.4% to secure a C$6 million loan. That's terrible for existing shareholders, who have already watched the shares fall from over C$4.80 to C$0.19.
In short, the Venture is a toxic market for 99% of investors out there right now. Even the experts are being cautious.
In the long run, this market is doing us a favor. It's wiping out two years of rising share prices. When it's over, we're going to be able to buy the highest-quality stocks in the sector for 2009 prices.
That's when we'll make big, triple-digit gains.
For now, though, stay on the sidelines and be safe. We'll keep an eye on it. When it's time to buy, we'll let you know.
Good investing,
Matt Badiali
[ad#jack p.s.]
Source: The Growth Stock Wire