"What do you think of the Facebook IPO?" my mom asked me last week while visiting.
Last month, Apple was the darling stock of her bridge club… Now with Facebook about to trade publicly, the chatter among the bridge girls must have shifted.
Me? I have no interest in Facebook shares…
I don't want to buy what the bridge club is talking about. I have nothing against Mom's friends, of course.
[ad#Google Adsense 336×280-IA]I just don't want to buy what's popular.
If you buy what the average investor is buying, the very best you can expect is average returns.
If you want to make much greater than average returns, you have to be willing to buy what most people are NOT buying.
That is where you can find great values.
And I want to buy what is quietly strong… what is quietly booming… right now.
Apple is falling like a rock. And while many other sectors are following Apple's lead, "rolling over," and falling… the biotech sector is stealthily ON FIRE. Many of the major biotech funds are hitting new highs.
Subscribers to my True Wealth Systems letter are up over 40% in 2012 alone on my recommended biotech pick, the ProShares Ultra Biotech Fund (BIB). (I'm not cherry-picking a particular date or a particular biotech stock here… we bought this basket of biotech stocks at the beginning of this year.)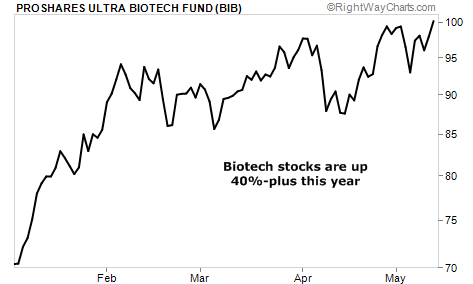 But nobody is in the trade… yet. The simplest way to show it is through the "shares outstanding" of the most popular biotech fund (which has the symbol IBB). Exchange-traded funds like IBB simply issue more shares as more people want them. If investors don't want shares, the number of shares outstanding falls.
Over the last three years, investors have been fleeing biotech stocks. From late 2008 through late 2011, the shares outstanding of IBB fell in half. As the chart of the shares outstanding (not the stock price) shows, investors are just barely starting to buy again: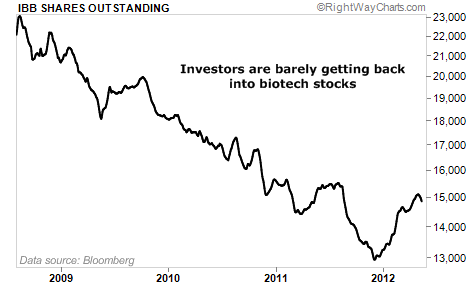 Meanwhile, biotech stocks are still cheap. Judging by the price-to-book ratio (P/B), they're the cheapest they've been since the late 1980s (except for the last two years).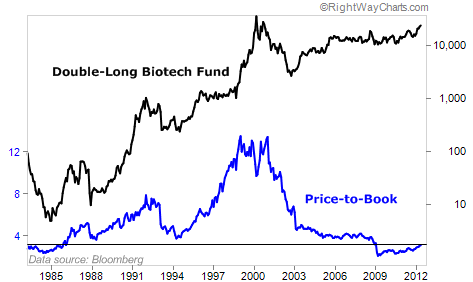 This is the ideal time to get in.
I've often written, "If you catch just one biotech bull market in your lifetime, you may never have to work again."
Biotech stocks have had CRAZY bull markets multiple times through stock market history.
Starting in 1998, the Nasdaq Biotech Index soared sixfold in 18 months. And biotech stocks soared even more than that in the early 1990s – up over 1,000%.
It's been over 12 years since the last biotech boom ended. Biotech stocks are cheap. They're ignored. And they're in a serious uptrend.
This is the exact recipe we want to see to make triple-digit profits.
We have it, today, in biotech.
True Wealth Systems readers are already up over 40% since January in shares of BIB. But this could be just the beginning. I believe much bigger gains are possible.
It's been 12 years. It's time for another big boom in biotech.
Get on board, if you're not already…
Good investing,
Steve
[ad#jack p.s.]
Source: Daily Wealth