The energy sector is about to see a wave of bankruptcies.
Natural gas prices have already cratered. That's crushed the share prices of many natural gas producers. But so far, they've been able to stay solvent… thanks to "natural gas liquids."
The situation is changing now. And the worse it gets, the more businesses will go under.
Here's what I mean…
[ad#Google Adsense 336×280-IA]Natural gas liquids are hydrocarbons like butane, ethane, and gasoline.
These generally trade based on the crude oil price, minus a small discount.
While natural gas prices have fallen 50% over the last 10 months, crude oil prices have held up well.
The benchmark U.S. crude price climbed 42% from October 2011 to March 2012.
So last year, it was far more lucrative to sell something that traded even 20% below the oil price than to sell natural gas.
That's true again this year. So far in 2012, the average natural gas price is less than $2.50 per thousand cubic feet (mcf), and the average oil price is $103.10 per barrel.
So natural gas producers have scrambled to add more liquids to the mix, taking on debt to lease expensive acreage in areas with higher liquid content.
But now, oil prices are finally coming down… fast. U.S. crude prices have dropped almost 10% in a week. Take a look…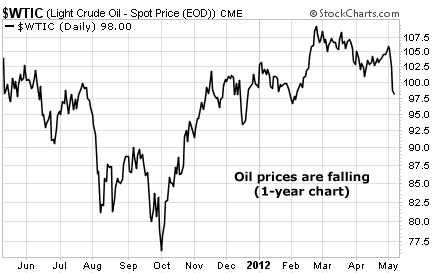 That's going to take down the prices of NGLs as well… and companies that have been depending on them for a substantial portion of their income.
Let's use $2 billion Canadian junior Paramount Resources as an example…
In 2011, the company sold its natural gas for $4.10 per mcf and its liquids for $82.24 per barrel. It earned half its revenue from NGLs.
Those liquids sold at a 15% discount to the price of crude oil. If crude oil falls to $75 per barrel, like it did in October 2011, the company will only get $63 per barrel for its liquids.
The company posted a net loss of $232 million for the year. Those barrels of liquids prevented an even worse loss. Now the company is in trouble. It has $513 million in debt, and its liquids aren't going to bail it out as well in 2012 as they did last year.
And Paramount is not alone.
A quick search in Bloomberg turned up several small to midsized natural gas producers that have mostly natural gas reserves but get much of their revenue from liquids. The full list is long. Over 30 companies fit the criteria. But here's a sample…
Investors should stay far away from this sector until oil prices stabilize. If prices fall as far as they did last year (about $75 at the bottom), some of these companies will go bankrupt.
Super-investor Warren Buffet once said, "It's only when the tide goes out that you learn who's been swimming naked."
Right now, the tide is falling. And a lot of energy companies are swimming naked.
Good investing,
Matt Badiali
[ad#jack p.s.]
Source: The Growth Stock Wire