Unless we're headed for a 2008-style meltdown, gold stocks should be ready to start moving higher.
The major mining stocks are dirt-cheap. At an average price-to-earnings ratio of about 10, the sector trades at a 25% discount to the S&P 500.
You can collect dividends of 1.5%-2.5% on many gold stocks. And as I mentioned a couple weeks ago, gold stocks are trading at their lowest relative value to gold in over a decade…
[ad#Google Adsense 336×280-IA]Today, we also have the old "reversion to the mean" philosophy working for us…
Most stocks have some sort of "magnetic" relationship with their 200-day moving average (DMA).
Stocks rarely move too far above or below their 200-DMAs before reverting toward the line.
Look at a long-term chart of any stock or index and you'll get an idea of what's normal.
For example, take a look at this chart of the Gold Bugs Index (HUI) plotted against its 200-DMA…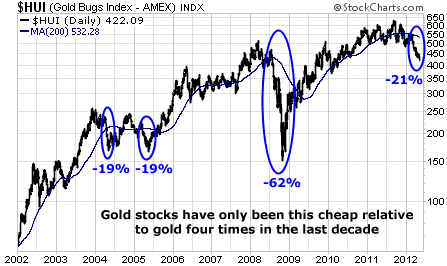 As you can see from the chart, there have only been four times in the past decade where the Gold Bugs Index dropped 19% or more below its 200-DMA.
The most extreme move occurred during the "sell everything at any price" phase of the financial crisis in 2008. Outside of that, today's near-20% decline below the 200-DMA is the most extreme downside move we've seen in 10 years.
It took about three months to recover from similar conditions back in 2004 and 2005. So unless we're headed for a 2008-style collapse, the Gold Bugs Index should start working its way back toward the 200-DMA. And gold stocks should be considerably higher a few months from now.
I've been slowly accumulating some of the larger miners over the past few weeks, and I've recommended gold shares to subscribers of my S&A Short Report and Advanced Income newsletters. I believe that in a few months, we'll look back at the sector and be amazed that we were able to buy these stocks so cheap.
Precious metals is the only major market sector that is extremely oversold right now. From a risk-versus-reward perspective, it's the only sector in which I'm comfortable building a sizable position.
Best regards and good trading,
Jeff Clark
[ad#jack p.s.]
Source: The Growth Stock Wire