Nobody's been paying attention. We're still catching it early…
I haven't heard a single mention of it in the mainstream news. But biotech stocks are in a serious bull market… At the end of March, the Nasdaq Biotech Index broke out to a new 12-month high. And at the end of April, it popped up to 10-year highs.
DailyWealth readers have heard this before, but it's worth repeating:
If you catch just one biotech bull market in your lifetime, you may never have to work again.
[ad#Google Adsense 336×280-IA]From late 1998 to early 2000, the Nasdaq Biotech Index soared over sixfold in less than 18 months.
Take a look at this chart, created by our True Wealth Systems computers.
It shows the huge bull market from 1998 to 2000.
And it shows the breakout to 10-year highs today…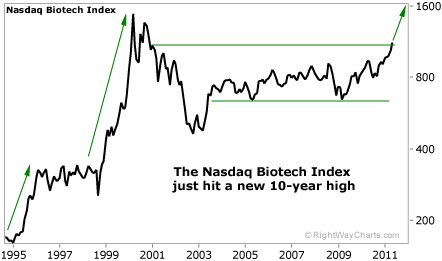 The numbers get even better than the 1998-2000 bull market.
In the early 1990s, the Datastream Biotech Index soared over 1,000%. It's unbelievable… but true. Biotech stocks have had four massive, triple-digit bull markets since the 1980s.
Biotech stocks have extraordinary booms and busts. Investors get excited about biotech changing the world… then forget about it entirely. The last decade has been the "forget about it" decade, so it's been more bust than boom.
For 10 years, biotech has been completely dead money. You'd have actually lost a good deal of money if you'd stayed invested…
The Nasdaq Biotech Index peaked around 1,600 back in 2000. Today, it's finally poking its head above 1,000 again. It's lost 30% from its peak.
As you can imagine, with a decade of losses, investors have fled biotech stocks…
While the share prices of biotech stocks have done nothing for 11 years, these companies have been growing like mad…
Consider the case of Amgen (AMGN), the world's largest biotech company and the largest holding in the Nasdaq Biotech Index. Take a look at Amgen's sales over the last 15 years… Sales have gone from next-to-nothing to almost $15 billion a year. Even with that extraordinary sales growth, shares of Amgen are lower today than they were in 2000.
In short, investors are not excited about the future in biotech. So Amgen is now downright cheap, at a forward price-to-earnings ratio under 10. And it's not just Amgen… The top four holdings of the Nasdaq Biotech Index are cheap by any standard. Take a look…
Sizing things up… We have all my favorite criteria in place:
• Biotech stocks are as cheap as they've ever been.
• Biotech stocks are hated by investors, who are fleeing.
• According to True Wealth Systems, a new uptrend has begun.
Right now, it's overdue for another triple-digit run, at least.
With a new 10-year high in the Nasdaq Biotech Index, I'm hopeful this is finally the start of a new uptrend in biotech.
Of course, we can't know THIS buy signal is THE BIG ONE – the buy signal for the next great bull market in biotech. But we do know all the ingredients are in place.
Good investing,
Steve
[ad#jack p.s.]
Source: Daily Wealth