"Equities relative to interest rates are the most attractive in over half a century in my analysis," Professor Jeremy Siegel told CNBC [Wednesday] morning.
Siegel specifically said stocks are cheap "relative to interest rates." I agree with him…
In December, I wrote a Daily Wealth essay called "Why the Entire Stock Market Could Soar Over 100% from Here," based on the same idea…
Stocks are already up 14% in the four months since I wrote that.
[ad#Google Adsense 336×280-IA]And it's still true.
This simple principle is that investors are being forced into stocks because interest rates – returns – are so low in everything else…
Interest rates are zero percent at the bank and less than 2% on government bonds.
Meanwhile, the "earnings yield" of stocks is closer to 8%.
"Earnings yield" might sound fancy – but it's just the price-to-earnings (P/E) ratio flipped over… Instead of the P/E ratio, earnings yield is the E/P ratio.
And right now, the gap between the earnings yield on stocks and the return on everything else is too wide. It has to close.
Jeremy Siegel fully understands this… He explained it earlier in the month on CNBC. Stocks are "fairly cheap on an absolute basis," he said. "They're extraordinarily cheap on a relative basis."
On an absolute basis, stocks are fairly cheap at a P/E of about 13 today. On a relative basis – relative to bonds and just about everything else – stocks are dirt-cheap.
You can see it in the chart below. Stocks offer the best relative value we've seen in 30 years.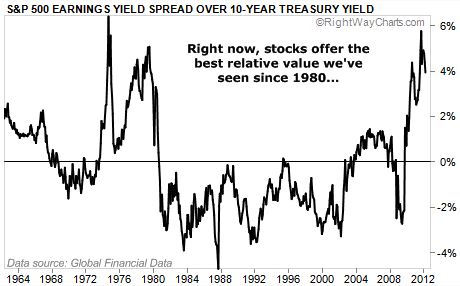 Earlier this year, Siegel told Barron's magazine there's a 50/50 chance the Dow stock index will hit 17,000 or higher before the end of 2013. That's about 4,000 points higher than it is today.
Siegel bases his optimism on the earnings yield and on his study of stock market cycles going back to the 1800s. But he made a simple observation as well…
When you start at a 13 price-earnings ratio [where we are today], get back in history, the future is much, much brighter. We've never had bad stock returns over the next three, five, 10 years when you start with a 13 P/E ratio.
Interestingly, Siegel is making these predictions without expecting companies to grow their earnings. He told CNBC… "We don't need corporate profits to grow for stocks to be great buys. Any growth in earnings is an extra bonus to the stock investment."
Stocks are the most attractive in a half-century, Jeremy Siegel says.
I agree with him.
He predicts the Dow could rise by 4,000 points between now and the end of 2013.
I'm usually not as bold as Siegel is in putting hard predictions down like that. But I think he'll turn out to be right…
Invest accordingly.
Good investing,
Steve
[ad#jack p.s.]
Source: Daily Wealth