Right now, some of the world's best companies are paying out a huge amount of investment income…
These companies dominate their markets.
They're ridiculously cheap.
They allow their shareholders to get rich, safely… by paying out steady dividends.
[ad#Google Adsense 336×280-IA]And if you buy at these levels, you can set yourself up for years of income.
You simply have to consider investing in something folks at the next cocktail party will find crazy.
You have to consider investing in Europe…
The idea of investing in Europe probably makes you queasy. But it shouldn't…
Today, European stocks pay some of the highest dividends in the world.
Take a look…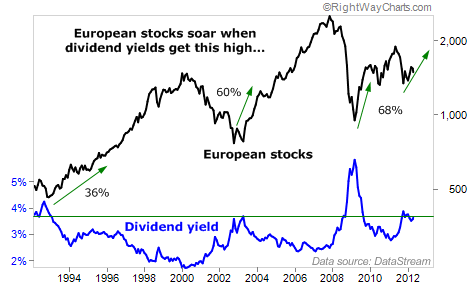 Excluding the financial crisis, European stocks are coming off their highest dividend yields in nearly 20 years.
Since 1992, we've seen dividend yields this high three times. As the chart shows, each opportunity led to double-digit returns in European stocks. On average, buying at today's levels led to 55% gains in just 19 months.
Today, the yield on European stocks is 3.6%. But the biggest, best dividend-focused European companies are yielding even more.
Europe's blue-chip index is the Dow Jones Euro STOXX 50. It holds 50 of the largest European stocks traded. Right now, the Euro STOXX 50 pays a 5.2% dividend.
And the stocks it holds are incredibly cheap. Take a look at the top six holdings…
These are all huge companies with market caps exceeding $50 billion. Buying industry-leading companies for under 10 times earnings is almost always a good idea. If you can collect double-digit dividends, that's even better.
The easiest way to buy these stocks is through the SPDR Euro STOXX 50 Fund (FEZ). It perfectly tracks the index. It trades at a forward price-to-earnings (P/E) ratio of just 9.4. And it pays a 5.2% dividend.
FEZ is down 8% so far in April. If you like to "bottom fish" with your stock purchases, you can consider buying European blue chips right now. But I'd rather wait on an uptrend to appear before buying… to make sure I'm not trying to catch a falling knife.
Whichever route you take, this "blue-chip income" idea is one you should consider soon.
Good investing,
Brett Eversole
[ad#jack p.s.]
Source: Daily Wealth