The risk of being out of silver right now is greater than the risk of being in it.
The last couple times we looked at the precious metal (here and here), its chart was in the process of forming an inverse "head and shoulders" pattern – a potentially bullish formation that could lead to huge gains.
But we needed the price of silver to drop one more time.
We got that price drop last week. Now it may be off to the races. Take a look at this updated chart…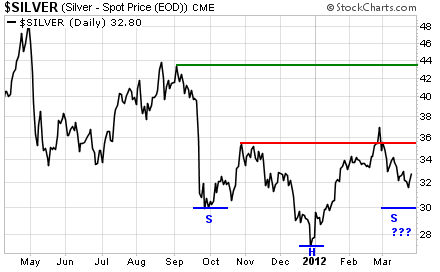 Silver dropped to near $30 per ounce last week. The chart above only shows closing prices, but silver hit an intraday low of $30.22 last Wednesday and held that support level.
[ad#Google Adsense 336×280-IA]It has since rallied a couple bucks and the chart has formed the right shoulder of the pattern.
The next resistance level is up near $35.
It probably won't break through that on the first attempt.
But once it does, the next resistance is all the way up around $43.
That's about 30% higher than [Monday's] closing price.
Of course, nothing is guaranteed. There are risks to every trade… and silver is no exception. It is certainly possible that silver could roll over here, break down through its $30 support line, and make a new low below $27 per ounce. That would invalidate the bullish inverse head and shoulders pattern and traders would take a loss of about $5 per ounce on the trade.
But there's $10 per ounce of potential upside here. So there's two times more reward than risk to the trade today. And right now, the chart favors the bullish scenario.
I'm buying silver based on this setup. The metal is up 8% since last Wednesday's bottom. So it's a bit extended in the short term. I'd prefer to see one or two days of a small pullback before getting aggressive on the trade. Ideally, I'd like to see one more drop that holds above last week's lows before backing up the truck on the trade.
But the bottom line is this: if you've been waiting for a good setup to start buying silver, things look pretty good right now.
Best regards and good trading,
Jeff Clark
[ad#jack p.s.]
Source: The Growth Stock Wire