In the past seven weeks, stocks are up 7%. But major U.S. companies in one sector are down an average of 19%.
The sector is now cheaper than it was during the "Great Recession." At today's prices, the market expects worse than the end of the world.
If things simply get "less bad," we could make a quick 48% return over the next 12-18 months. Let me explain…
Right now, investors HATE coal. And for good reason…
[ad#Google Adsense 336×280-IA]According to the U.S. Energy Information Administration, coal-based electricity generation fell 21% in 2011.
Electricity generation accounts for 93% of U.S. coal consumption.
That puts current coal demand at a new 35-year low.
Falling demand is pushing prices down.
The price of "thermal" coal – the kind that utilities use to generate electricity – is down nearly 20% since October.
What's to blame for the fall? The easy answer is natural gas…
Natural gas prices have cratered in the past year… falling 50%. Natural gas is now dirt-cheap. So many utility companies are switching from coal to natural gas.
All the bad news has investors fleeing the sector. The easiest way to see the exodus is through the "shares outstanding" of the Market Vectors Coal Fund (KOL). Take a look…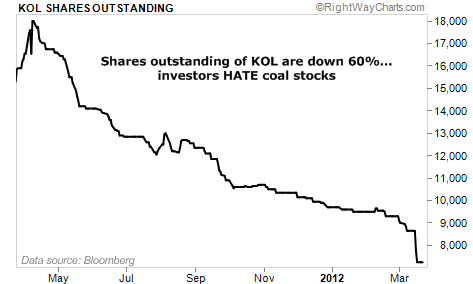 When investors flee a fund, the number of shares shrinks. In the case of KOL, the number of shares has fallen 60% since last April. (To put that in context, the number of shares of the largest S&P 500 fund are up 10% over the same period.)
With crashing prices come cheap valuations. Today, U.S. coal stocks trade at their lowest valuation in 14 years, based on price-to-book ratios. Take a look…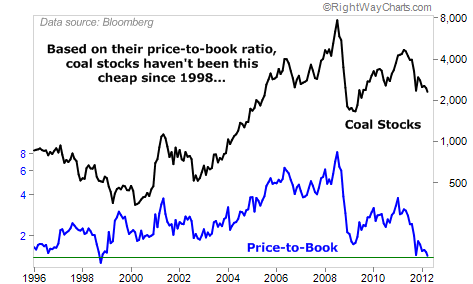 Unbelievably, coal stocks are 18% cheaper today than they were at the bottom in 2009. If these companies can simply return to their median price-to-book, we will see 48% gains from today's price. I think this could easily happen over the next 12-18 months…
You see… even with coal prices and demand falling, coal producers earned solid profits last year. In fact, Peabody Energy, the largest U.S. coal producer, reported record earnings in 2011.
And get this… while this year's earnings will likely be down from last year, estimates for major U.S. producers are MUCH higher looking past 2012…
Wall Street could have it wrong here. Some energy experts believe coal prices will continue to decline, which will cause these companies to fall short of their earnings expectations.
But right now, these companies are selling at cheap prices. Walter trades for just 8.3 times 2013 earnings. Peabody trades for seven times 2013 earnings. If things simply get "less bad" for coal companies, they could soar.
The only problem is the uptrend… We don't have it. KOL has been trending down for the last two months. And the major producers listed above are all down double digits over the same period.
Speculators can buy today and get a solid risk/reward setup. KOL trades 12% above its October low. Using that as a stop loss gives us 48% upside and just 12% downside.
Personally, I don't want to try to catch a falling knife. These companies WILL bottom eventually. But I'm more comfortable waiting for an uptrend before we get long.
For now, keep coal stocks on your radar. When the absolute worst passes for these companies, an uptrend will appear… And we'll have an extremely low-risk, high-upside trade.
Good investing,
Brett Eversole
[ad#jack p.s.]
Source: Daily Wealth