One of the market's most volatile sectors is flashing a warning sign.
This sector is capable of incredible, hundreds-of-percent booms… and brutal, 75%-plus busts.
In February, this sector looked like it was in the early stages of a budding uptrend. Since then, the trend has rolled over… and the stocks that trade in this market are struggling.
The stocks I'm talking about trade in the "Dow Jones of small resource stocks," the Toronto Venture Exchange Index. The Venture is home to the "bloodhounds" of the resource industry: junior resource stocks. These tiny companies scour deserts, jungles, and any other place they believe could host a big deposit.
[ad#Google Adsense 336×280-IA]When junior mining stocks soar, they don't double or triple… they increase by
thousands
of percent.
That's no exaggeration.
Companies like Kaminak Gold, ATAC Resources, and Mirasol Resources all rose over 1,000% from 2009 to 2011, thanks to major discoveries.
But this is the "Wild West" of the resource stock world. Junior explorers are the riskiest area of the market and are notoriously volatile.
In January, for instance, I told you that buying junior miners was still a dangerous bet. But in February, things started to look bullish for the sector.
Today, junior mining stocks are close to breaking back below their 120-day moving average (DMA)… a sign that the sector is struggling.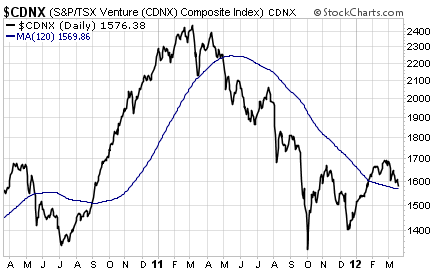 As you can see in the chart above, Toronto's Venture Exchange Index peaked in late February… and has since fallen 100 points. The blue line is our 120-DMA. This simple technical indicator works by averaging, in this case, 120 days of closing prices.
By plotting this indicator, we filter out market volatility so we can gauge the general trend. When the market is trading above its 120-DMA, we consider it to be in a bull trend. When it trades below its 120-DMA, we consider it to be in a bear trend. Keep in mind: there's nothing "magic" about this indicator… it simply gives us a rough idea of which way the "trend wind" is blowing.
While I believe the Venture has found a bottom… and while I'm finding some good values in the sector… we can't be 100% certain what will happen here. If you own some small resource stocks, keep holding. But before we turn into raging bulls on the sector, we need to see this index turn away from its long-term moving average, away from its recent lows, and start working higher.
Good investing,
Matt Badiali
[ad#jack p.s.]
Source: The Growth Stock Wire