Gold miners are cheap. And I'm buying.
You should consider doing the same…
When I judge the "value" of gold stocks, I usually use two measures…
The first comes from industry guru John Doody, editor of Gold Stock Analyst. As of the latest issue of his letter, John's simple "overvalued/undervalued" metric shows gold stocks are 15% undervalued.
The second is a simple ratio of the market value of gold stocks versus the price of gold. When the ratio is low, gold stocks are cheap compared to the metal. As you can see below, the ratio is hitting three-year lows…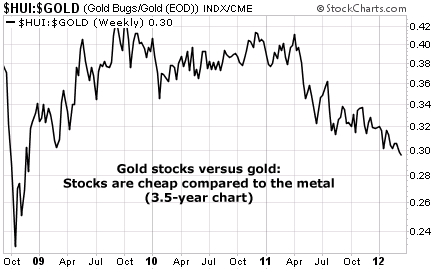 Except for the 2008 credit crisis, gold stocks haven't been this cheap compared to gold in the last 10 years.
[ad#Google Adsense 336×280-IA]So my two "go-to" metrics for gold stocks are telling me they're a great value right now.
And there's another number I'm looking at that really drives the point home…
Let's ignore the fact that these companies produce gold for now and just evaluate the businesses.
One of the best ways to compare regular businesses – whether they make pool toys, t-shirts, or bars of gold – is the price-to-earnings (P/E) ratio.
The P/E ratio is simply the market cap of the company relative to its annual earnings.
It shows us the premium over the company's earnings that an investor today will pay. And it gives us an apples-to-apples way to look at stocks.
In the table below, I've listed some of the world's biggest gold producers… I used 2012 numbers, which gives us a better sense of how much value we're getting for this year's earnings. And I used something called "enterprise value" (EV) instead of the simple market price. EV factors in debt and cash, so it gives us a more precise gauge of value.
As you can see, we can buy gold miners for an average of six times this year's earnings estimates. That's cheap. For comparison's sake, the Dow Jones Industrial Average trades at 12.4 times this year's earnings.
I expect investors to start pushing gold stocks' value much higher this year. Gold is over $1,700 an ounce. [Tuesday], my colleague Jeff Clark showed you why gold could climb over $2,100 an ounce this summer.
At these prices, gold miners are wildly profitable. I believe gold stocks can hardly get any cheaper…
If you are looking for the cheapest big gold stocks to play this trend, consider Iamgold (IAG), Kinross (KGC), and Newmont Mining (NEM). If gold stays where it is or rises higher, you'll be glad you did.
Good investing,
Matt Badiali
[ad#jack p.s.]
Source: The Growth Stock Wire