On March 1, you probably missed one of the most important pieces of investment news so far this year…
This was just before the market began its three-day, 2.2% "hiccup."
And most traders were so worried about seeing their volatile, low-quality stocks sink in price, they didn't even notice how a small group of investors received a 9% raise.
[ad#Google Adsense 336×280-IA]While the "herd" was in a lather, this group was sleeping well at night… knowing its income was about to take another big step higher…
just like it's done every year for 38 years
.
This group is known as "owners of Wal-Mart common stock."
The news was Wal-Mart's (WMT) latest dividend increase, which will push the annual payout up from $1.46 per share to $1.59… a 9% jump.
Keep in mind, that's on top of the 21% increase from the year before… and the 11% increase the year before that… and so on.
You can see the relentless rise in the chart below. It shows Wal-Mart's quarterly dividend payouts for the past 10 years: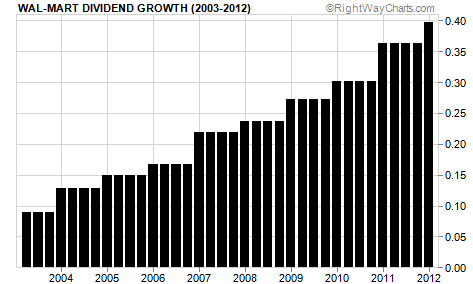 Over the past five years, Wal-Mart hasn't paid out less than 30% of its earnings in dividends. So it could double the current dividend and still have more room to grow it.
But you might think Wal-Mart's current dividend yield of 2.6% means this news isn't worth your time.
You'd be wrong.
For one thing, the same qualities that have allowed the company to increase its dividend every year for decades – the steady, cash-gushing nature of Wal-Mart's business – means it's much less vulnerable to broad market drops than your typical stock.
You can see that quality at work in its August performance. While the benchmark S&P 500 stock index lost 17% of its value, Wal-Mart fell less than 10%… and had fully recovered by early October. The S&P took another four months.
For another thing, the safe, growing dividend acts as a "magnet" to pull the share price higher. And it's really been kicking in lately. My colleague Brian Hunt pointed this out in a recent issue of his Market Notes…
Our guess is that in 2012, more and more people recognize the safety and income-producing power of basic dividend payers. With interest rates low, the fashionable thing on Wall Street will be for fund managers to say, "I own blue-chip dividend payers."
This will send a flood of new money into these stocks. Corporate managers will see the share prices of divided payers rise… so they will hike payouts. This will create a "momentum" trade in dividends.
Over the last six months, Wal-Mart's shares are up 27%. This says some people are starting to acknowledge the importance of Wal-Mart's excellent near-term and long-term dividend growth potential. But the "hop-hum" reaction to Wal-Mart's recent announcement tells me the crowd hasn't woken up to this idea… yet.
You can "wake up" right now, though. If you're done fretting whenever the market takes a hit… if you want to sleep well at night no matter what the market does… if you want to see your income rise every year… relentless dividend-raisers like Wal-Mart are the kind of stocks you need to own.
Good investing,
Dan Ferris
Sponsored Link: Dan Ferris writes our income-focused advisory, The 12% Letter. His strategy of selecting only the strongest dividend-payers in the world has brought his readers 15 safe, double-digit winners in the last two years. To learn more about The 12% Letter, click here.
Source: Daily Wealth