Even the heads of billion-dollar banks are catching on to my "Next Switzerland" idea…
Yesterday, I was looking at North Florida real estate with EverBank founder Frank Trotter.
"Hey Steve, I've got to apologize to you," he told me. "I gave a speech this morning to the World Affairs Council. I told them about your 'Next Switzerland' idea. But I forgot to attribute you. Sorry about that!"
I told him, "No worries, Frank. I'm glad to get the word out on one of the world's last 'safe havens'"…
For decades, investors put their money in Switzerland's currency, for safety.
[ad#Google Adsense 336×280-IA]Switzerland's currency used to be considered the world's strongest, with a significant gold backing.
But in recent years, Switzerland has been selling its gold.
And last year, Switzerland announced it would purposely weaken its currency… It promised to print as much money necessary to weaken the Swiss franc versus the euro.
It's worked!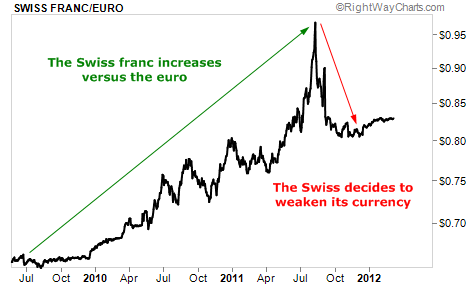 In short, by selling its gold and purposely weakening its currency, Switzerland ain't what it used to be as a safe haven – at least as a place to put your cash.
So if not Switzerland, where can you put your money to keep it safe going forward? Where will your money be treated well? Where can you earn a decent interest rate, in a country that isn't going broke?
Australia…
Today, I think of Australia has the potential to be the "Next Switzerland."
The situation in Australia today shares a lot of similarities with what caused Switzerland's currency to soar:
Australia is very rich (its government owns its gold and resources).
Australia has very little debt (it will be net debt free by 2020).
It's a safe haven (it likely won't be invaded).
It has strong banks today (particularly after the economic crisis).
It has a legitimate rule of law.
It has a strong currency (implicitly backed by resources).
A lot of that sounds like Switzerland of old to me!
Additionally, interest rates in Australia are high… unlike interest rates in the U.S. and in Europe.
These high short-term interest rates are expected to hang around in Australia through 2013, as Australia remains committed to preventing inflation (just the opposite of the U.S. and Europe).
Investors always move their money to where it's treated best… And with high interest rates, in a safe country, investors will continue to move their money to Australia in the coming years.
I believe it's possible the Australian dollar could "settle in" at ridiculously overvalued levels for the very long term… just like the Swiss franc did for decades.
I'm talking about a level much higher than today – a level that makes no sense to academics… but makes sense to safety-seeking investors.
The one risk here is that the Australian dollar is highly correlated to commodity prices. But the Australian government is in better shape to handle a crisis than any country in the world.
The typical government "tools" to fight back a crisis are to 1) borrow money and 2) cut interest rates. With no real debt and a high deposit rate, Australia has plenty of room to do both of these today to fend off any crisis.
For the long run, Australia's dollar is safe. It might just be the last safe country on earth for your money.
If it does take on "safe haven" status – as sort of a Next Switzerland – the Australian dollar could soar higher than anyone can imagine right now. It's time to be invested in Aussie dollars for the long run, earning more interest than you can in the U.S. – and safely, too.
The simplest way for Americans to own Aussie dollars is through the CurrencyShares Australian Dollar Trust (FXA). It's an exchange-traded fund you can buy through any U.S. broker. It currently pays a 3.75% dividend.
Frank Trotter's firm EverBank also offers a variety of ways to get your money into the Aussie dollar, including FDIC-insured CDs denominated in Aussie dollars, a foreign bond denominated in Aussie dollars, and the ability to hold Aussie dollar in a U.S. bank account.
You can contact EverBank's World Markets department to find out about these things. Call 800-926-4922 or e-mail WorldMarkets@Everbank.com. (As always, I don't receive any commission or any other compensation from EverBank, and neither does my publisher, Stansberry & Associates.)
However you do it… if you're looking for a safe haven for your money… if you're looking to get your money out of the U.S. dollar and the euro… consider the Aussie dollar.
It could turn out to be the Next Switzerland – the next great safe place for your cash.
Good investing,
Steve
[ad#jack p.s.]
Source: Daily Wealth