It's déjà vu all over again.
If you've been watching the stock market and thinking you've seen this before, it's because you have. The action so far this year is almost identical to what happened last year…
The S&P 500 gained 100 points in the first six weeks of 2011. It was a straight move up. The market shook off technical warning signs and concerns over European debt and just kept powering higher. The natural ebb and flow of stock prices disappeared. It was a one-way road to higher prices.
That is, until the rug got pulled out from underneath.
Stocks are playing the same game here in 2012, including Tuesday's 20-point rug pull. If history continues to repeat, investors are headed for trouble over the next few weeks.
Take a look at this chart of the S&P 500…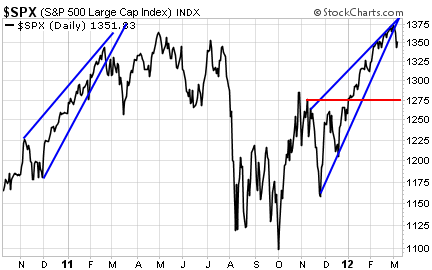 Last year, stocks broke down from a bearish rising-wedge pattern, bounced back up to retest the former support line of the wedge, and then nose-dived lower – giving up all the gains of the year.
We have an identical situation right now. At its high last week, the S&P 500 was up 100 points for 2012. Stocks have ignored numerous technical warning signs and increased concerns over European debt. The natural ebb and flow disappeared and stocks trudged higher nearly every day – until Tuesday, when the rug got pulled out from underneath the market…
[ad#Google Adsense 336×280-IA]The S&P 500 has now broken the bearish rising-wedge pattern to the downside.
From here, stocks should bounce and retest the former support line of the wedge.
Then, if the script remains the same as last year, things could get ugly and the S&P 500 could soon be right back down to where it started the year…
That's the bad news.
The good news is last year's springtime decline set the stage for a rally to even higher prices into early summer.
We could see the same thing happen this year as well.
Over the next few days, aggressive traders can use any bounce up near 1,365 on the S&P 500 to add to your short positions. Longer-term investors should wait for the next shoe to drop before buying stocks.
Best regards and good trading,
Jeff Clark
[ad#jack p.s.]
Source: The Growth Stock Wire