The stock market is playing "whack-a-mole" with the Volatility Index (the "VIX").
The VIX – which acts as the market's "fear gauge" – surged 20% higher last week… well on its way to the expanding volatility I've been calling for.
But as we've seen lately, just as the VIX appeared ready to break out to the upside, the market smacked it back down.
Here's an updated chart…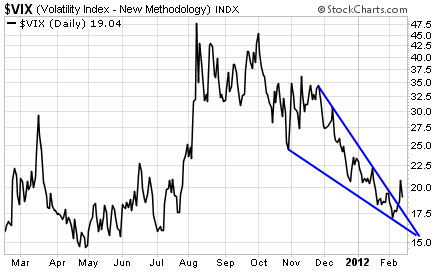 [ad#Google Adsense 336×280-IA]As you'll notice, volatility has been falling since last October.
This makes sense, since the VIX tends to soar when the market drops, and vice versa.
Since stocks have been moving higher, it's no surprise volatility has moved lower.
But notice that the VIX has drawn out a falling-wedge pattern. This occurs when a stock makes a series of lower highs and lower lows, but the distance between each high and low gets narrower. When this pattern occurs, the stock usually breaks out to the upside. And that is exactly what the VIX did last week.
But Monday, the VIX gave up a good portion of last week's gains. Folks might now be tempted to ignore the breakout and look for stocks to renew their uptrends.
Not so fast…
Most of the time, when a chart breaks out to the upside of a falling-wedge pattern, the initial move is sudden and violent. That's what we saw with the VIX and its 20% rise last week. But then the chart comes back down to retest the breakout level of the wedge, before reversing course and heading even higher.
I suspect that's what the VIX is starting to do right now. It's in the process of retesting the former resistance line of the wedge around 17.50. That gives the chart a little more room to move on the downside, which means the market may have a little more room left to go on the upside.
But if the VIX can bounce off its former resistance – which is now support – and rally back above last week's high around 21, we'll have our first series of higher highs and higher lows. That'll be the start of a new uptrend for the VIX… And it'll be an indication that the stock market has started the correction I've been predicting.
Best regards and good trading,
Jeff Clark
[ad#jack p.s.]
Source: The Growth Stock Wire