It's not too late… but if you want to get on-board one of biggest money-making trades of 2012, you need to act soon.
If you don't take action, you could miss out on 50%-100% gains this year.
Over the past three months or so, my colleague Steve Sjuggerud and I have been writing about the "bad to less bad" opportunity setting up in natural resource stocks… the companies that mine things like copper, fertilizer, gold, silver, coal, and iron ore.
[ad#Google Adsense 336×280-IA]Regular
DailyWealth
readers know this sector of the market is capable of experiencing huge booms and busts.
Stay out of the busts, get in early on the booms, and you can easily make 50%-100% in a year with these companies.
As I highlighted last month, resource stocks busted in 2011.
They had enjoyed a big run higher in 2010.
But when folks got scared of holding stocks and commodities last year (due to fears of the European debt crisis and the ripple effects it would have on the rest of the world), they dumped resource stocks… Major "trophy" stocks like Freeport-McMoRan (copper) and Vale (iron ore) lost 30%-50% of their values in just months. Smaller resource stocks lost even more.
As Steve and I expected, resource stocks have put in a bottom… and have staged a big rally. For example, Freeport is up 26% since Steve ran this essay.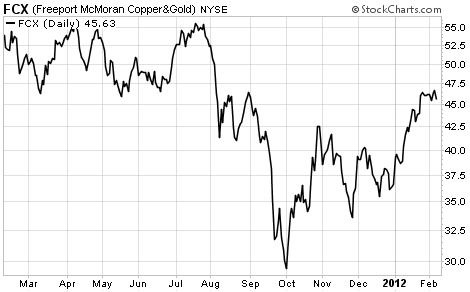 While resource stocks are likely to take a short-term breather after this big surge, there's good reason to expect them to keep rising over the course of 2012.
As my colleague Porter Stansberry recently noted, Europe is now printing money in order to stave off its debt crisis. The U.S. Federal Reserve has an ultra-stimulative interest rate policy in place right now. These efforts should "goose" the economy… which will drive up the prices of natural resources. That's a big tailwind for companies like Freeport.
Since Freeport and its sector colleagues have climbed so much in such a short time, it's only reasonable to expect a small correction. That's just how the market works. When that correction arrives, use it as a buying opportunity… and let the coming natural resource "boom" do the rest.
Good investing,
Matt Badiali
[ad#jack p.s.]
Source: Daily Wealth