Get ready to pay more at the supermarket.
Agriculture prices are exploding. In the past three weeks, the price of soybeans has risen 6%… Corn has risen 10%… And wheat has jumped 12%.
The price of just about every raw agriculture commodity is trending higher.
In fact, the GSCI Agricultural Index (GKX) – which measures the prices of a variety of raw commodities – is up about 6% in the past three weeks.
And by the look of the following chart, it's about ready to launch sharply higher…
[ad#Google Adsense 336×280-IA]The chart is tracing out an ascending-triangle pattern. In this type of pattern, the index runs into resistance, falls back to make a higher low, then runs higher into resistance again.
This is a bullish pattern, which usually leads to a breakout above the first resistance line and an accelerated move toward the next resistance level.
If the GSCI Agriculture Index can push above initial resistance at just below 450, there's not much to hold it back from a rocket blast to 530.
That's a 20% move higher from current levels. If that happens, we can all expect to be paying a lot more on our next trip to the grocery store…
There is, however, a way to profit off the trend of rising raw commodities prices. The Elements Rogers International Commodity Index (RJA) is an exchange-traded fund designed to track the performance of the same commodities in the GSCI Agriculture Index. You can see the correlation in the following chart…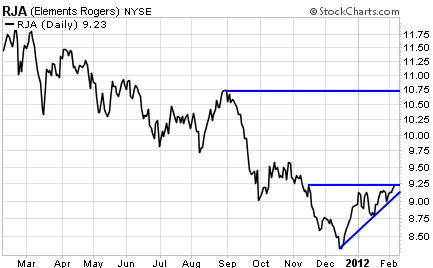 In this case, a solid move above $9.30 or so is likely to lead to an intermediate-term rally toward resistance at $10.75.
There are fundamental reasons to expect higher agriculture prices in the next few months – including an improving economy, vast money-printing by every central bank around the globe, and a mild winter leading to drought conditions later this coming spring and summer. Now we have a technical condition favoring higher prices as well.
Keep your eye on RJA. It looks ready to pop higher.
Best regards and good trading,
Jeff Clark
[ad#jack p.s.]
Source: The Growth Stock Wire