Things are looking bullish for junior mining stocks…
We track the junior mining market with the TSX Venture Index. It's sort of the "Dow Industrials of tiny resource stocks." The last time we checked in, it was still working on a bottom.
But today, I believe a new uptrend has likely taken hold. And that means there are hundreds of percent gains possible.
Junior resource stocks are some of the riskiest, most volatile assets in the market. Several friends of mine in Vancouver – the center of the resource market – lost their shirts in the 2008 bust, when the Venture Index dropped 75% in about eight months.
The 2011 bust wasn't nearly to that scale. But it sure did get ugly. From peak to trough, the Venture Index lost about 45%.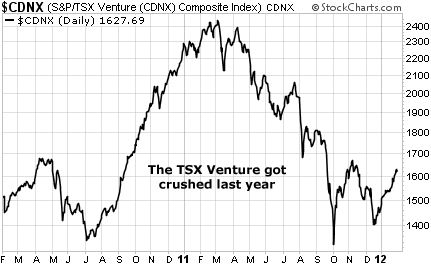 Today, though, it looks like things are turning around… The Venture is up 16% over the last month. And it's crossed above its 120-day moving average – a simple trend indicator. I think this could be the beginning of another bull run in junior resource stocks. The conditions are perfect…
[ad#Google Adsense 336×280-IA]The long-term bull case for gold and silver is still intact.
The U.S. and Europe still have huge debts and unfunded liabilities that can only be paid back with devalued paper money (which is bullish for precious metals).
And the growing economies of Asia are still accumulating more gold each year.
After almost a year of terror, all the bad news is priced into the market. Several companies were trading for less than the cash in the bank. And some of the best stocks in the sector dropped 80%-90%.
But now, investors are tired of being afraid. And it looks like the world might not end… So some investors are dipping their toes into the risky pond again. The Venture Index is within spitting distance of breaking its November high at 1,670. Once it does, the rally is official.
In the last big bull market in junior mining stocks – from January 2009 to February 2011 – my readers booked huge gains… including 597% on ATAC Resources (ATADF), 339% on Jinshan Gold Mines, and 322% on Northern Dynasty Minerals (NAK). And they more than doubled their money on many others.
If this is a new bull run, we could see similar gains this time around.
Good investing,
Matt Badiali
[ad#jack p.s.]
Source: The Growth Stock Wire