After months of waiting, it's finally time to trade copper from the long side… and potentially make 50% or more in copper stocks.
Copper is one of the world's most useful building materials. It's a good conductor of heat and electricity. It's easily stretched and shaped… and it's resistant to corrosion. That's why the metal is in almost everything around you… from computers and refrigerators to plumbing and automobiles.
As my colleague Brian Hunt often points out, this "in everything" attribute makes the metal rise and fall with perceptions toward the global economy.
Last year, copper busted. Nobody wanted to own the stuff because of fears over the global economy. Copper fell from $4.40 per pound to $3.10 per pound. You can see this bust in the two-year chart below…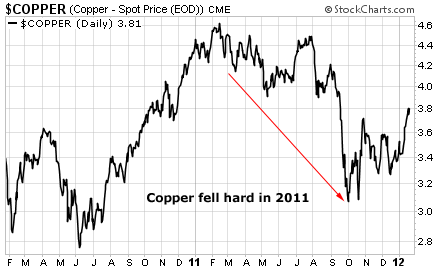 Now look to the right side of the chart. You'll see that the plunging copper price has stabilized… and just rallied to a multi-month high around $3.80 per pound. You can thank China for this rally…
[ad#Google Adsense 336×280-IA]China imported 406,937 metric tons of copper in December. That marked the seventh-straight increase in monthly imports. It's also 78% higher than China's copper imports last December.
This continued consumption has helped send copper to its highest point in four months. And supplies are getting scarce…
The inventory of copper in London Metal Exchange warehouses is at a three-year low. That's incredibly bullish for this trend.
Even so, the headlines are screaming economic doom and gloom. Greece can't complete a bailout deal. France is in a full-blown recession. The U.S. economy remains on the ropes. Some market forecasters even say a depression is in the cards.
The bears might eventually be right. But always keep in mind: The world has a way of not ending. And the time to buy an asset is when pessimism is high.
That's why copper is an interesting trade at these levels. The price is down big since early 2011, but it's experiencing a bit of price strength now. And many copper miners are beaten-down and cheap.
Take Freeport-McMoRan (FCX), for example. Freeport is the world's biggest copper producer. It owns the world's best "trophy" copper asset: Indonesia's Grasberg mine. Freeport is giant: $41 billion in market value. And it yields 2%.
Over the last year, its stock is down 20%. Freeport's peers have seen their share prices drop between 20% and 40% over that same 12-month span. Should the world simply "not end," copper could easily go back over $4 per pound and force a big recovery in these copper miners. If Freeport rallies back to its 2011 high, it'd be a 35% gain from here.
If you make a trade here, keep a stop loss near the late-2011 lows to protect your capital. That way, you lose just a little if copper declines. But I think 2012 will surprise the bears… especially when it comes to resource stocks.
Right now, copper stocks are in the dumps… Should the economy simply muddle along, these stocks could experience a solid rally. That's why it's time to jump back into copper miners.
Good investing,
Matt Badiali
[ad#jack p.s.]
Source: The Growth Stock Wire