China just went on a resource-buying spree of massive proportions.
I'm not talking about oil, natural gas, gold, copper, silver, or grain.
I'm talking about one of the world's most hated resources right now: uranium.
This time last year, nuclear energy was in the midst of a renaissance. Advocates were hailing it as a cheap, carbon-free source of energy. The entire sector soared.
Shares of major uranium miner Cameco doubled from June 2010 to February 2011. Uranium juniors like UEX Corp. performed even better. UEX's shares rose 298% from May 2010 to February 2011.
[ad#Google Adsense 336×280-IA]But in March 2011, an earthquake and tsunami struck Japan. They destroyed several nuclear reactors at the Fukushima Daiichi power complex. The resulting contamination was the second-worst nuclear disaster since Chernobyl.
Countries all over the world, including Germany and Japan, vowed to halt nuclear power production… Uranium mining and nuclear power became pariahs. The price of uranium fell about 45% from peak to trough. The sector wasn't just down… it was truly despised.
Here's the thing: China – one of the world's most important resource consumers – faces a severe shortage of electric power. It already consumes a huge amount of coal and natural gas to generate electric power. But it needs fuel from every source it can get, including uranium. It doesn't have the luxury of hysterical overreaction like Germany has.
And it's still scouring the earth for uranium.
Two Chinese national companies, China Guangdong Nuclear Power Holding Company and Hanlong Mining Investment, are trying to buy giant uranium deposits in Africa.
China Guangdong appears that it will succeed in buying Kalahari Minerals and Extract Resources, which co-own the fourth-largest uranium deposit in the world.
And Hanlong Mining Investment made a cash offer to take over Bannerman Resources in October 2011. The target of the deal is Bannerman's Etango project in Namibia. Etango is another of the world's largest undeveloped uranium deposits. The conditional offer was $144 million. Bannerman, which has a market value of around $62 million, turned it down.
These deals, along with a recent bidding war between Cameco and mining giant Rio Tinto, will "put a bid" beneath the world's best uranium deposits.
And that's not all the good news for the sector. Ten months after the Fukushima disaster, it looks like uranium prices might have finally bottomed.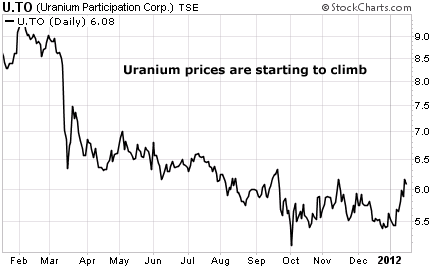 This chart shows Uranium Participation Corp. a Canadian-listed investment holding company that owns uranium. It serves well as a proxy for the spot price of uranium. As you can see, prices held up well during the fall… and they're starting to climb.
To get an "insider" take on the situation, I called one of my contacts in Vancouver. He runs a tiny uranium explorer. Because of his position, he didn't want his name published. But he's one of my "go to" experts in the nuclear industry.
He told me that the "smart" money is flooding back to the sector. He said that the folks who live on the profits that they make investing – the institutional investors – are buying again.
The recent share price performance among uranium juniors shows that someone is buying. UEX Corp, the high-flyer from uranium's last boom, is up 76% over the last couple weeks. Shares of Uranium One, another junior, are up 29% since mid-December.
I'm beginning to look around the sector for new opportunities. You can start your own research with this "shopping list" we published last year.
These stocks have been beaten down for months… China is buying up big deposits… and the price action is starting to turn positive. I expect we could find several big winners in uranium this year.
Good investing,
Matt Badiali
[ad#jack p.s.]
Source: The Growth Stock Wire