[
Note from Daily Trade Alert:
This article was published on 12/13, just after our 12/13 issue went out. We included it in our 12/14 issue because the S&P 500's 1230 support level did NOT hold. Read Jeff's analysis below and trade accordingly.]
If we're going to get a second "Santa Claus rally" this year, it needs to start right now.
The jolly, fat man in the red suit first visited Wall Street right after Thanksgiving. We called for his arrival here and here. It was a short visit, but a powerful one. The S&P 500 gained 7% in only four days.
But Santa left early – just about the time all the financial TV talking heads started looking for him. We waved goodbye and wished him well. But we also suggested he might make a second trip down the chimney this year…
If it's going to happen, he better get here quick.
Take a look at this 60-minute chart of the S&P 500…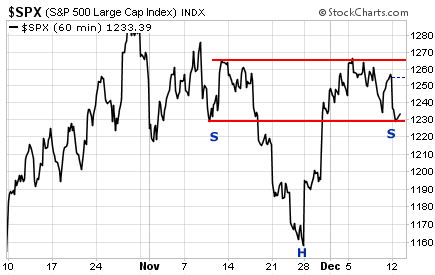 This chart has the potential to morph into a truly powerful inverse "head and shoulders" formation. If it plays out, the S&P 500 could shoot as much as 100 points higher over the next month. But the S&P can't fall much below 1,230 – and the rally needs to start within the next week – for this pattern to hold up.
[ad#Google Adsense 336×280-IA]The "left shoulder" formed on November 10 with the S&P at 1,230. The market rallied a bit and then fell to a new low, which marked the "head" of this pattern on November 25, with the S&P at 1,160. We're now forming the "right shoulder" of the pattern.
To create a symmetrical chart (which isn't always necessary, but it adds strength to the argument), the 1,230 level needs to hold as support. And since it took 11 trading days to go from the left shoulder to the head, it ought to take about 11 trading days to go from the head to the right shoulder.
Yesterday was the 11th trading day.
If the market can start to rally here, stocks should be much higher by Christmas and into New Year's. On the other hand, if the bulls can't get anything going, it's because Santa has already been here once. And that'll be the only time we see him this year.
Best regards and good trading,
Jeff Clark
[ad#jack p.s.]
Source: The Growth Stock Wire