'Tis the season for higher interest rates.
It never fails. Interest rates move higher in December – at least, that's been the case for the past four years. Since 2008, betting on higher interest rates has been a consistently profitable trade.
Take a look at this chart of the 30-year Treasury bond yield…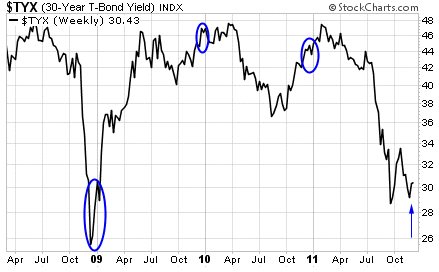 [ad#Google Adsense 336×280-IA]The blue circles on the chart indicate the action in interest rates during the final few weeks of each year. Rates were already on the way up heading into the end of 2009 and 2010. They simply continued to trend higher in December.
But look at the action in 2008. Interest rates bottomed shortly after central banks around the globe vowed to increase liquidity to ease the 2008 financial crisis. Rates spiked higher through the holiday season.
The world's central bankers made the same promise last week. Perhaps we're in for a similar spike higher this year as well?
Here's how the iShares 20+ Treasury Bond Fund (TLT) performed over the same period…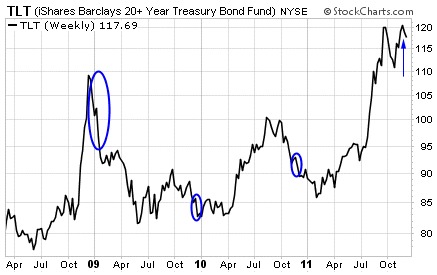 TLT has declined in each of the past three Decembers. And it's down so far this December as well.
Of course, no trade is ever guaranteed. In fact, as soon as a trade appears to be predictable and fail-safe, it tends not to work anymore. But I haven't heard anyone else talk about this, which leads me to believe we might still have one more year to profit on this one.
If interest rates move higher, bond prices are going to move lower. You can profit off this trend by selling short shares of TLT. Or you can buy shares of the ProShares UltraShort 20+ Year Treasury Fund (TBT). This is a leveraged fund designed to return twice the inverse daily performance of TLT. So if TLT drops by 5%, TBT should rally by 10%, and vice versa.
Either way you choose, if you're looking for a high probability trade to make this holiday season, betting on higher interest rates looks like a pretty good setup.
Best regards and good trading,
Jeff Clark
[ad#jack p.s.]
Source: The Growth Stock Wire