The Fed just killed the dollar rally.
It wasn't a quiet, stealthy, ninja-like maneuver where Ben Bernanke snuck up behind the greenback as it sat alone watching TV in its apartment… and plunged an ice pick into the back of its head. No, our Fed Chairman marched the dollar to the center of the village square, doused it in gasoline, and then – with the whole town looking on – torched it with a flame thrower.
Last Wednesday, the Fed – along with other central banks around the world – announced a coordinated effort to increase liquidity in order to lessen the stress on the global financial markets. In other words, they're going to print more money.
That's bad news for the dollar. And it's horrible news for savers.
But a falling dollar is good news for gold and gold stock investors.
Take a look at this chart of the U.S. dollar…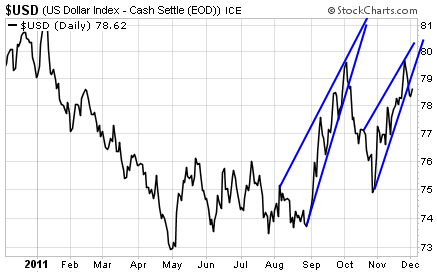 [ad#Google Adsense 336×280-IA]Last week's action caused the dollar to break down from a rising-wedge formation. This is a bearish pattern and often leads to a swift and severe decline
Just look at what happened when the dollar broke down from the exact same pattern back in October. The greenback fell nearly 5% in just four weeks. That's an enormous move for a currency… and it led to large moves higher for gold and gold stocks.
The shiny yellow metal rallied 6% in October. Gold stocks, as measured by the Market Vectors Gold Miners Fund (GDX), rallied 14%.
If the current pattern in the dollar plays out the way it did in October, we could be looking at an explosive rally in gold stocks over the next few weeks
The dollar rally is dead. And with the Fed making sure it stays that way, there's not much resistance overhead for gold stocks.
Best regards and good trading,
Jeff Clark
Note from DTA: Market Vectors Gold Miners Index (AMEX: GDX) is one of our "9 Best Stocks to Own Right Now." In short, thanks to its structure as an exchange-traded fund, you get instant, diversified exposure to a basket of the largest gold mining stocks. For more on this opportunity, see the following articles:
Buy These Stocks Before It's Too Late — by Matt Insley
This is a "No-Brainer" Gold Trade to Make Today — by Matt Badiali
The Best Way to Profit From Gold Now — by Dr. Steve Sjuggerud
The Best Gold Stock Opportunity I've Seen in Two Years — by Jeff Clark
[ad#jack p.s.]
Source: The Growth Stock Wire