Veeva Systems (VEEV) provides cloud-based software for the life sciences industry in North America, Europe, the Asia Pacific, and internationally.
The company's platform allows pharmaceutical and biotechnology companies to target and support sales and marketing to physicians and other healthcare professionals.
The company was formerly known as Verticals onDemand, Inc. and changed its name to Veeva Systems Inc. in April 2009. Veeva is headquartered in Pleasanton, California and was founded in 2007.
Veeva is very strong fundamentally with annual EPS growth averaging 43% per year for the last three years while sales grew by 31% annually over the same time period.
The company boasts a profit margin of 29.7% and an operating margin of 22.8%.
The return on equity for the company is 18.6%.
Analysts are optimistic toward the company and expect the company to continue growing. Expectations are for earnings to grow at a rate of 21.5% annually over the next five years. Even with the optimism for the company's growth, there is some pessimism from investors in the form of the short interest ratio which currently stands at 5.52. While that isn't terribly high, it is high for a company with great fundamentals and the way the price has appreciated over the past few years.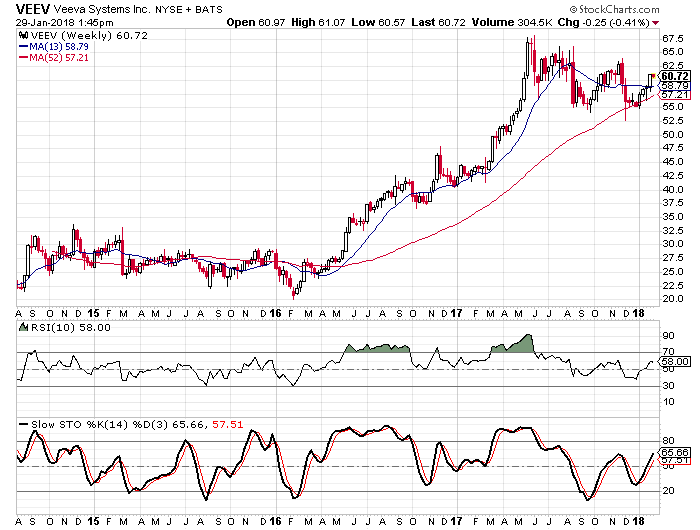 The chart shows how the stock tripled in value from February '16 through May '17, but it has since drifted sideways. During the huge rally the stock became tremendously overbought and it was way ahead of its 52-week moving average. The sideways action over the last eight months allowed the moving average to catch up to the stock and in December and January the trendline acted as support. I look for the stock to bounce from here.
Suggested strategy: Buy VEEV with a maximum entry price of $65.00. I would set a target of at least $85 in the next six months, for a 40%-plus potential return from current prices. I would also set a stop-loss at $55. The company will report earnings on February 26, so you will want to keep an eye on that announcement.
— Rick Pendergraft
A 3,000% Opportunity Just Got a Boost from Trump's Corporate Tax Rate Cuts
[sponsored ad]
Corporate tax rate changes have effectively cut taxes for most corporations by around 40%. That's a big deal for companies tied directly into the coming revolution called The Singularity. It's transforming industry, government, education, jobs, transportation, and communication... It's been estimated that The Singularity represents $100 trillion (not a typo) in wealth creation of the next seven years. The question is whether you'll get your share of that $100 trillion. Check out the new FREE report, "The Industrial Singularity", to see how to get your hands on your part of $100 trillion.
Click HERE.