Tesla Inc. (Nasdaq: TSLA) recently unveiled its Model 3 car, marking the company's first "affordable" electric car. CEO Elon Musk tweeted photos of the first car to roll off the assembly line in the company's Fremont, Calif., factory.
And he promised that the first 30 customers would receive their Model 3s by the end of July, with production increasing to 20,000 a month by year end.
While the new model 3 is certainly a catalyst for Tesla stock in 2017, it's far from the only reason for long-term optimism…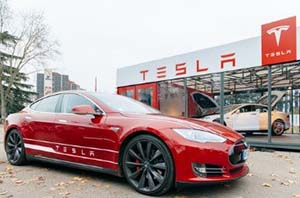 The new sedan has an expected price tag of about $35,000, and at least 400,000 people have reportedly put down $1,000 deposits for it already.
The company hopes it will help bring production up to 500,000 vehicles by the end of 2018.
Compare that to the 76,000 vehicles it delivered in 2016, and 25,000 vehicles in the first quarter of this year.
Clearly, there is a lot riding on the Model 3's success.
At that price point, the Model 3 is also Tesla's first step in producing a mass-market product. In fact, Tesla said that its mission is to accelerate the world's transition to sustainable energy. A noble goal, indeed.
However, what might be better for most buyers is the "cool factor" of finally being able to afford a Tesla at all. Perception is everything with branding – and with the price of a company's stock.
This can only serve as another catalyst for the company and the Tesla stock price going forward. But for all of the excitement the Model 3 is generating, there is a much bigger reason to be bullish on Tesla stock in 2017…
The Real Reason to Buy Tesla Stock in 2017
While the new driveway bling may be nice, the real catalysts for Tesla stock have nothing to do with cars, as we've been saying at
Money Morning
for years.
Money Morning Chief Investment Strategist Keith Fitz-Gerald has been talking about how Tesla should be viewed as a battery company, and viewed through that lens, it is a stock to buy and hold for the long term (at least five years).
As a car company, it garnered roughly a 0.4% share of all vehicles sold in the United States in 2016. Not much of a player.
But as a battery company, it can revolutionize several industries, from utilities to power storage to transportation…
A few months ago, we told readers how the company is building "Gigafactories" to produce lithium-ion batteries, each of which can supply power to more than one half-million cars per year.
In keeping with his vision of steering the world toward sustainable energy, Musk recently said, "We actually did the calculations to figure out what it would take to transition the whole world to sustainable energy. You'd need 100 Gigafactories." And in May, he projected that they will start work on up to three more to bring their total up to five.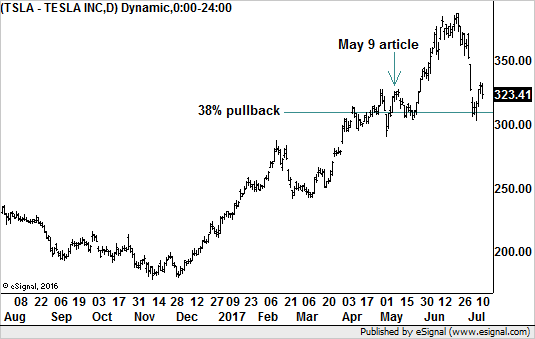 Tesla wants to redefine the electric grid with solar power generation and lithium-ion battery storage. That will be huge for the economy and for investors.
Tesla stock took a beating in July before the Model 3 was released. It fell from its June 26 high, near $387, all the way down to a low of $303 on July 10. It was more than a 21% pullback that prompted pundits to say it entered "bear market territory."
However, if you look at that decline in the context of the rally it enjoyed from December 2016 to June 2017, it was a 38% pullback. That is par for the course with stocks that move this quickly and well in line with the ebb and flow of a stock in a generational bull market.
We believed in Tesla stock in May at the $325 level. Guess where the stock is trading now? It closed Thursday, July 13, at $323.41. So investors who missed their chance to buy in May have another one now.
The share price can still make some investors nervous and is still up 50% year to date. But Tesla is a rule-breaker, and rule-breakers do not wait to let us comfortably buy their shares while they are busy changing the world.
But thanks to the recent weakness hitting the entire technology sector, sometimes we do get lucky.
— Money Morning Staff
[ad#mmpress]
Source: Money Morning