One of the most gratifying things about compiling the Dividend Champions spreadsheet is witnessing the steady stream of dividend increases, which are announced throughout the year, in wave after wave, by the Champions, Contenders, and Challengers.
(Note that all references to Champions mean companies that have paid higher dividends for at least 25 straight years; Contenders have streaks of 10-24 years; Challengers have streaks of 5-9 years. "CCC" refers to the universe of Champions, Contenders, and Challengers.)
Recent dividend increases have come from Contenders like
Andersons Inc. (ANDE)
,
CVS Caremark (CVS)
, and
Dominion Resources (D)
.
The only thing better than reporting such increases is knowing ahead of time which companies are going to boost their dividends soon.
Fortunately, the vast majority of CCC companies have a habit of announcing dividend hikes about the same time each year.
So it's no stretch of the imagination to suggest that most of these companies can be expected to repeat this annual phenomenon.
The announcements can come anywhere from two days to more than two months before the Ex-Dividend Date, so I try to look ahead by about 11 weeks to provide adequate "warning" of the good news to come. Currently, that means companies with Ex-Dividend anniversaries through April 1. With that in mind, here are the next group of companies that should boost their payouts, based on last year's dates: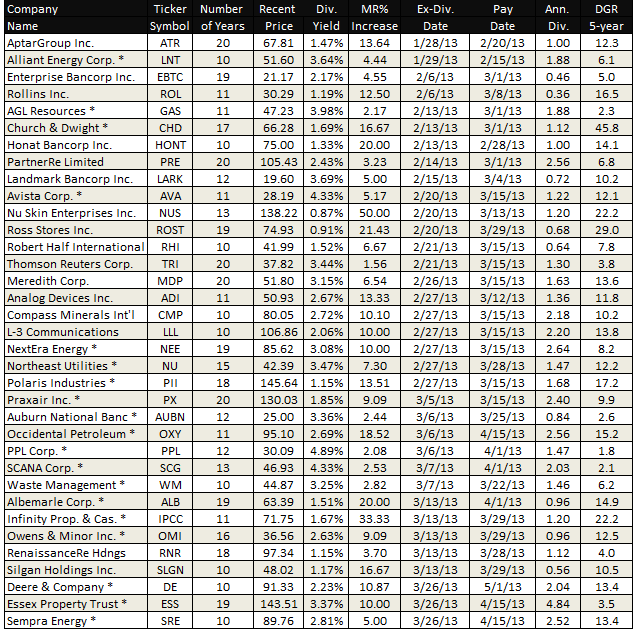 No.Yrs=Consecutive years of higher dividends; MR=Most Recent; DGR=Dividend Growth Rate; *Offers Company-sponsored Dividend Reinvestment/Stock Purchase Plan. Unlike brokerage "DRIPs," these allow cash investments of as little as $25. For a list of No-fee company-sponsored DRIPs, click here.
Past as Prologue
Typically, the repeatability factor for these dividend increases is about 90%, which is worthy of some confidence. The percentage increases (dividend growth rates) may vary, but these companies have established a solid dividend "culture" and generally pass along the fruits of their labor, which means a portion of their growing profitability.
– David Fish
Turn $5K into a Million-Dollar Retirement in Just 5 Years [sponsor]
It all starts by banking one double-digit winner and then stringing 12 of those double-digit winners together in a year. In just 5 years... you could grow a mere $5,000 into $1,522,408! Click here for complete details, plus: 3 Stocks to Kick-Start Your Million-Dollar Retirement Portfolio.
Disclosure: Author owns shares of DE, NEE, PII, PX, SCG, and WM.