It's easy for investors to overthink things by focusing too much on global events and macro issues, or by trying to rationalize short-term choices that might not be prudent down the road.
So when it came to making my main December selection for our Income Builder Portfolio, I decided to keep it really simple.
I added to our stake in a company that has been one of the best performers since the IBP was launched nearly 5 years ago … a market-beating powerhouse that just released yet another stellar earnings report and that gave shareholders yet another double-digit-percentage dividend raise … an industry leader whose fundamentals keep improving year after year after year.

I went with Broadcom (AVGO), one of the world's largest semiconductor manufacturers — and I decided to go in strongly, making it the portfolio's largest holding by market value, amount invested and income produced.
On Friday, Dec. 9, I executed an order to buy 2 additional shares of AVGO on behalf of this site's co-founder (and IBP money man), Greg Patrick.
After putting $1,090 into Broadcom, I used the rest of Greg's $2,000 monthly allocation to build up existing positions of materials company Eastman Chemical (EMN) and investment bank Morgan Stanley (MS).
For more about those outstanding businesses, see my articles HERE and HERE. Today, however, we're all about the world's fifth-largest, publicly traded chipmaker.
Big-Time Performer
This past Thursday, Broadcom released financial information for both the fourth quarter of 2022 and the full fiscal year, which ended Oct. 30.
Earnings and sales growth grew quarter after quarter, topping out in Q4 at record highs in both categories (all financial graphics from Simply Safe Dividends).

Annual figures were equally impressive, again hitting record highs.
EARNINGS PER SHARE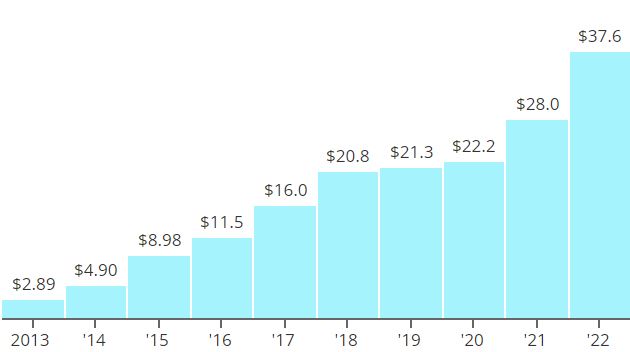 TOTAL SALES ($B)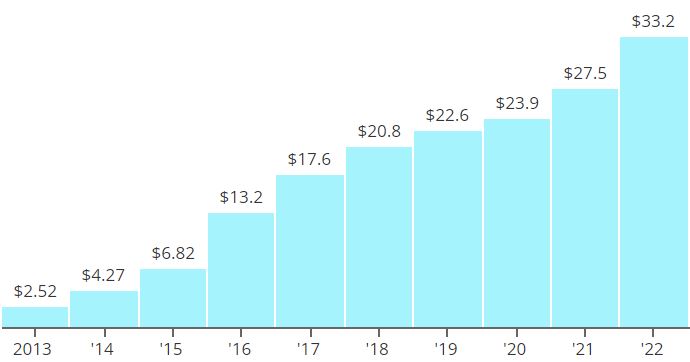 FREE CASH FLOW PER SHARE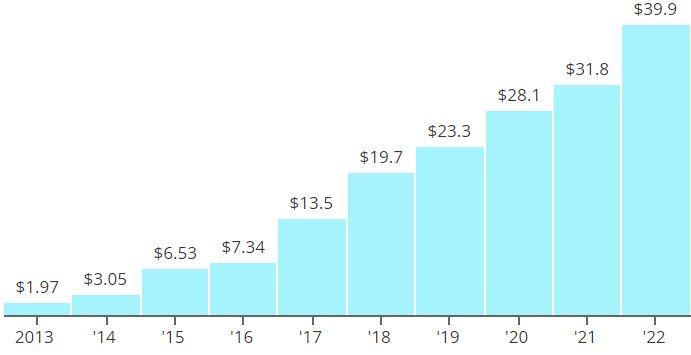 Since AVGO went public in 2009, only once in the 50+ quarters in which it has reported earnings has it failed to exceed or meet expectations; that was a slight miss in Q1 2020, when income cratered for almost every company in the world due to the COVID-19 outbreak.
Indeed, Broadcom hasn't ever suffered year-over-year earnings loss since going public, a trend that is expected to continue over the next several years.
Because AVGO has made so many major acquisitions, one concern some had was the company's debt level. But Broadcom has done a good job reducing its liabilities the last couple of years, and its net debt to EBITDA is expected to be well down next year, too.
Given the information I've already shared about Broadcom, it should be little surprise that Jefferson Research's "Financial Sonar" shows an incredibly strong balance sheet and other metrics for the company.
All of that success comes under the backdrop of what has been a difficult time for semiconductor companies, what with serious supply-chain issues and headwinds related to the pandemic, inflation and other adverse macro conditions.
AVGO's stock hasn't been immune to those issues … but just look at how it has performed over the last year compared to other major U.S. chipmakers.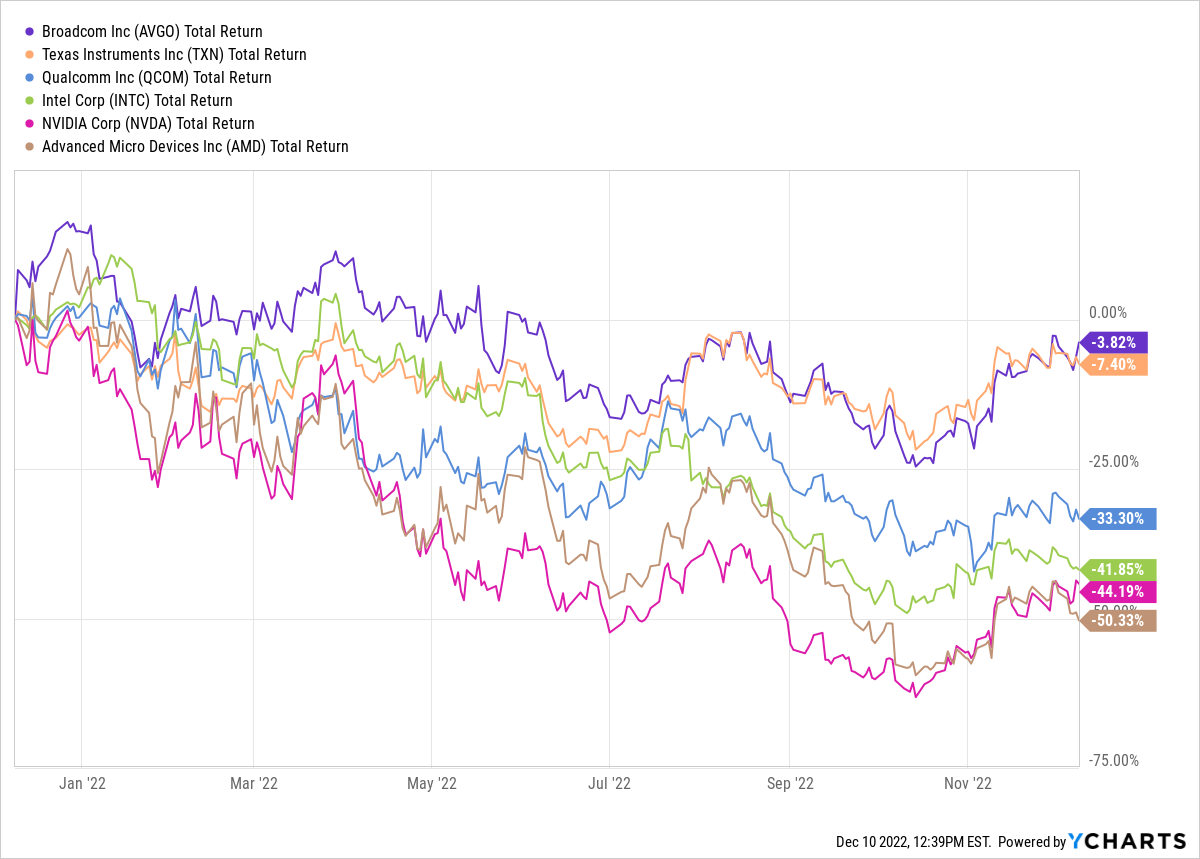 One reason AVGO has outperformed its peers is that it has grown into more than just a semiconductor company.
About 22% of its revenue is generated by its Infrastructure Software segment, which it has built through major acquisitions in the past decade.
That profitable software division, less affected by supply-chain issues, is expected to grow significantly in the not-too-distant future. It is currently waiting for final regulatory approval to complete its recent acquisition of cloud computing company VMware.
One thing for sure: Broadcom has been a major player for our Income Builder Portfolio.
Before our latest buy, we had purchased the stock in October 2018, January 2020, December 2020 and June 2021. Combining all those buys, we put $2,913 into it — and its 111% total return ranked 4th best in the IBP.
Had we bought the exact same dollar amount of the SPDR S&P 500 ETF Trust (SPY) on each of the four dates we bought AVGO, the total return would have been only 26.5% — more than 4 times poorer than AVGO's gain.
While that amazing historical outperformance did make it fairly easy to choose AVGO again for the IBP, investing really is about what one expects from a stock going forward.
Valuation Station
Analysts are high on AVGO, with 21 of the 24 monitored by Refinitiv giving the stock either a Strong Buy or Buy rating.
The outlook is similar among analysts surveyed by TipRanks, with 10 of 11 calling AVGO a Buy, and an average target price that suggests 20% upside.
Despite the stock's outstanding performance over the years, it still looks relatively undervalued. Its forward P/E ratio and PEG are lower than its own 5-year average, as well as the norms for the overall market and the semiconductor industry.
Morningstar considers the stock to be about 13% undervalued, and its analyst talks about Broadcom having overcome "industry headwinds."
CFRA's 12-month target price for Broadcom is $600, with analyst Angelo Zino saying:
We like AVGO's attractive valuation and potential FCF/EPS, with the pending VMware deal to support $8.5B in targeted EBITDA contribution (combined annual FCF +$25B). The greater software exposure (about 45%-50% sales postdeal versus 21% currently) also improves visibility and offers higher-margin potential while diversifying from semiconductors. We see improving networking demand for its switching and routing platforms as well as for its custom ASIC solutions in cloud. We have high confidence in management execution and expect AVGO to benefit from higher spending from cloud customers looking to upgrade their infrastructure and networks.
Schwab gives AVGO its highest rating — an "A" for Strongly Outperform — and here are the reasons:
Value Line includes Broadcom in its model portfolio of Stocks for Income and Potential Price Appreciation.
AVGO also is on VL's list of 100 Highest Growth Stocks — to be included, a company's annual growth of sales, cash flow, earnings, dividends and book value must together have averaged 10% or more over the past 10 years and be expected to average at least 10% in the coming 3-5 years.
Value Line's analysts project 3-5 year price appreciation of 60% to 141%.
Dividend Dynamo
And finally, we arrive at a subject near and dear to me (and others who use Dividend Growth Investing as part of their portfolio-building strategy): Broadcom's soaring payout to shareholders.
As part of its earnings presentation Thursday, the company announced a 12.2% increase to its dividend, representing its 13th consecutive year of growth. Since 2016, the compound annual growth rate of AVGO's dividend has been a spritely 38%.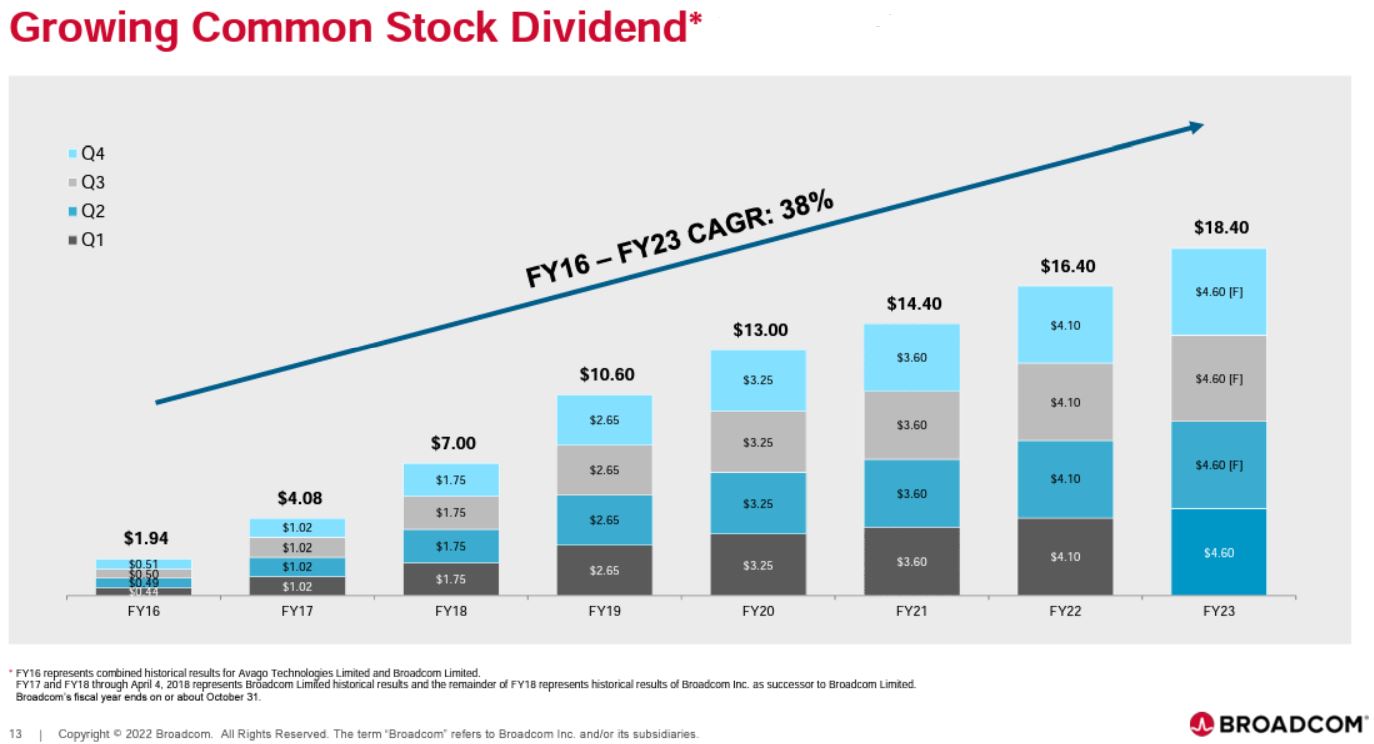 The large amount of free cash flow generated by Broadcom's operations makes such dividend growth possible and sustainable.
Notable: Broadcom's ex-dividend date is Dec. 19, so those who want to receive the increased dividend need to own the stock by Dec. 18. (Eastman Chemical's ex-div date is Dec. 14, so one needs to have EMN shares by this Tuesday to get the next payment.)
Friday's buys of Broadcom, Eastman and Morgan Stanley added about $68 to the IBP's projected annual income stream. Here's some income-related data about the companies:
Led by the AVGO position's $244 in expected annual income, the three holdings are projected to generate $413 in dividends to the IBP over the next year — or about 9.4% of the portfolio's income stream.
Wrapping Things Up
And while we're talking about the IBP's income stream, it's time to celebrate a bit of a milestone.
When we launched the portfolio back in January 2018, our target was $5,000 annual dividends within 7 years. Using the assumptions of a 2.5% yield and 5% annual dividend growth, the projected income stream after 5 years was $3,485.
Well, our December buys — combined with numerous dividend reinvestments and raises — have pushed our annual expected income to $4,394. That's $48 more than the original projection through SIX years.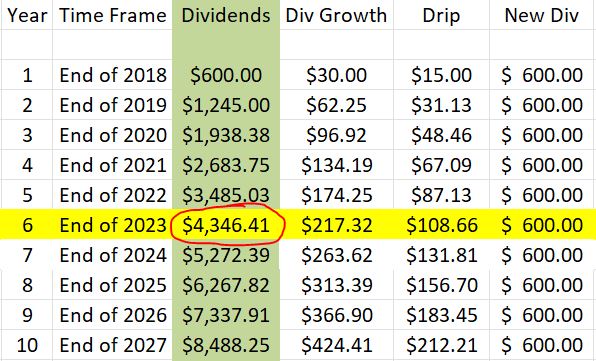 So the Income Builder Portfolio is on pace to hit our $5,000 target at some point in 2023 — more than a year ahead of schedule.
Owning high-performing, dividend-growing companies such as Broadcom sure has made the pursuit painless.

To see data on all 49 portfolio positions, as well as links to every IBP-related article I've written, check out our home page HERE.
I also manage another real-money project for this site, the Growth & Income Portfolio. See the GIP page HERE.
As always, investors are urged to conduct their own thorough due diligence before buying any stocks.
— Mike Nadel
46-Year-Old CEO Bets $44.2 Billion on One Stock
[sponsor]
Netflix is NOT the future of entertainment. It's only a small fraction. And one billionaire CEO is taking charge of what Netflix DOESN'T do and leading the way for the next generation of entertainment. His forward-thinking company, which many people haven't even heard of yet, doesn't only want to compete with Netflix...
It wants to rule the world...
Source: Dividends & Income