This article first appeared on Dividends & Income
When it comes to my beautiful grand-twins, Logan and Jack, it's all good.
Now nearly 14 months old, they are growing, walking (even running sometimes), smiling, giggling, playing, eating big-boy foods, and communicating (the way not-talking-yet kids do).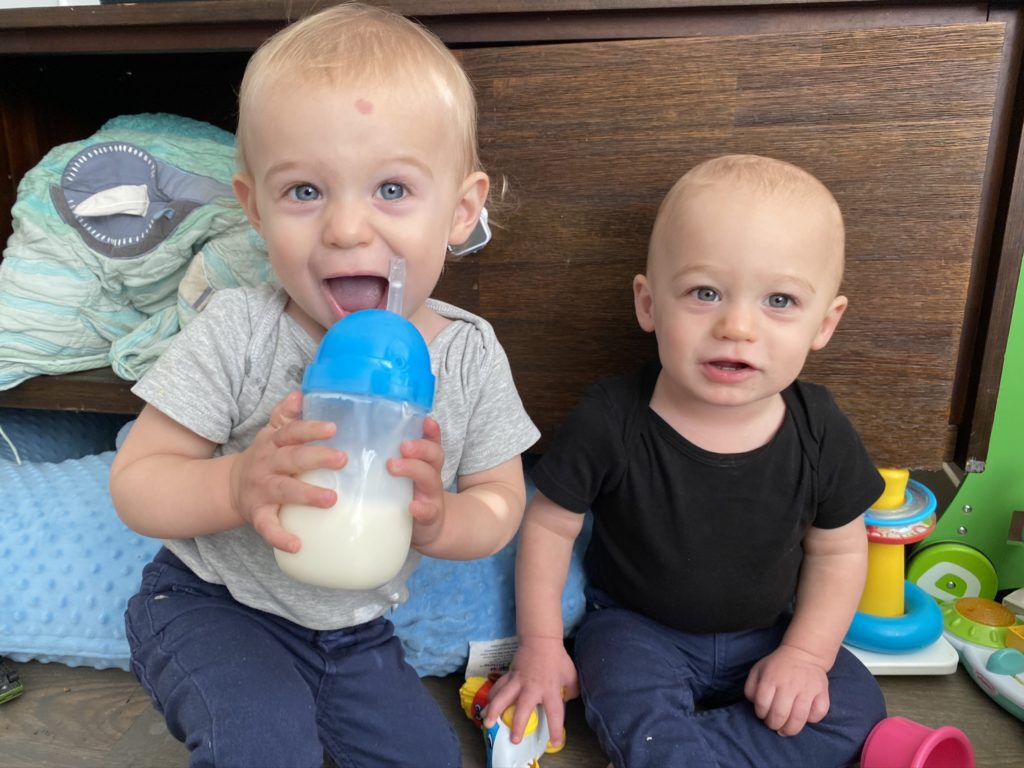 They even are getting ready to move out of their apartment and into their first house, as their parents (my son Ben and daughter-in-law Sammi) just closed on a place in suburban Chicago.
Yep, everything is going according to plan — and that includes the investments within my Grand-Twins College Fund, which was launched four months ago.

I call the GTCF a "growth & income" portfolio because it includes businesses with great prospects for earnings growth, along with companies that are expected to pay growing dividends. (Some holdings fit both categories.)
On the growth side, the leader has been
DraftKings (DKNG)
— the daily fantasy-sports betting site is up an amazing 80% since I added it to the portfolio.
Zoetis (ZTS), Costco (COST), Amazon (AMZN) and Mastercard (MA) are other growth companies that have shined.
Meanwhile, Microsoft (MSFT), Lockheed Martin (LMT) and Texas Instruments (TXN) all announced generous dividend increases in September despite the continued global coronavirus pandemic that has forced many corporations to cut or eliminate dividends.
Here is a look at the 15-company portfolio as of market close Sept. 30: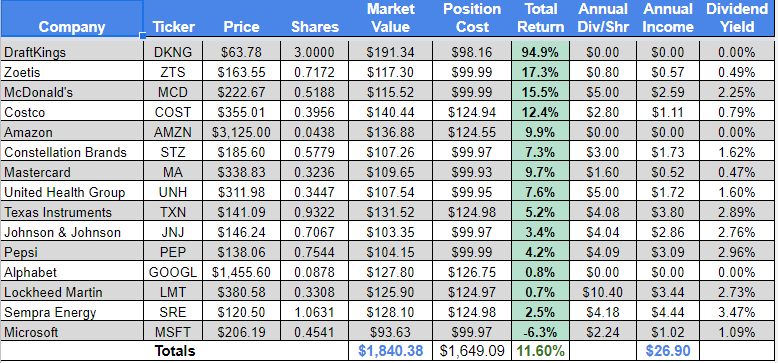 The table above is updated regularly and can be viewed on our Grand-Twins College Fund home page: HERE.
Rather than adding any new components to the GTCF in September, I decided to keep building up positions that already had been established.
I had $225 to invest — my monthly $100 contribution plus $125 worth of gifts that the boys  received for Birthday No. 1 — and I divided it between 9 companies as follows: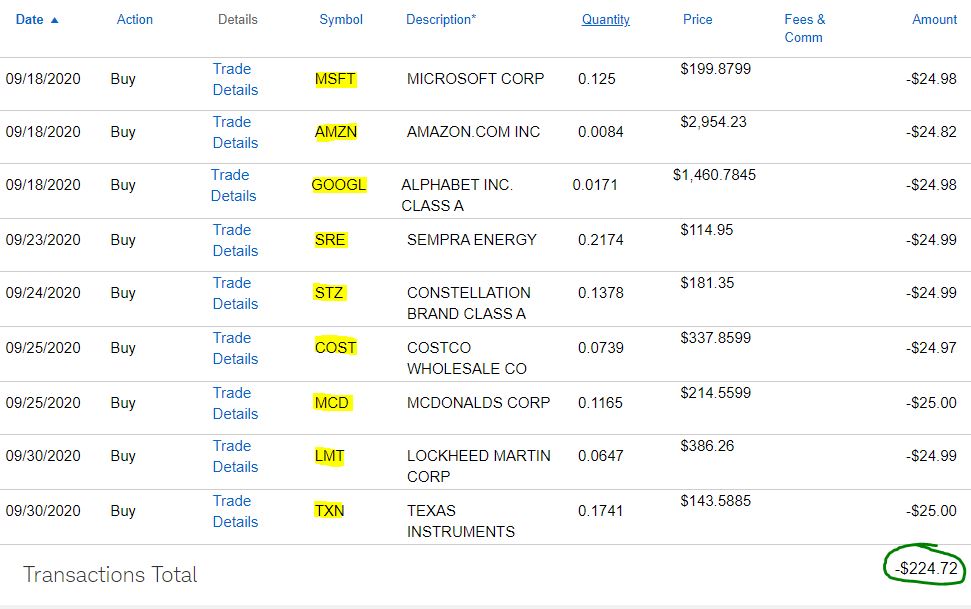 September was a big month for GTCF goings-on.
The King And I
With pro and college football starting their seasons despite the pandemic, and with pro basketball, hockey and baseball all going strong, it was a huge month for gamblers.
And that means it was big business for DraftKings, which saw spectacular 66% price appreciation in the month.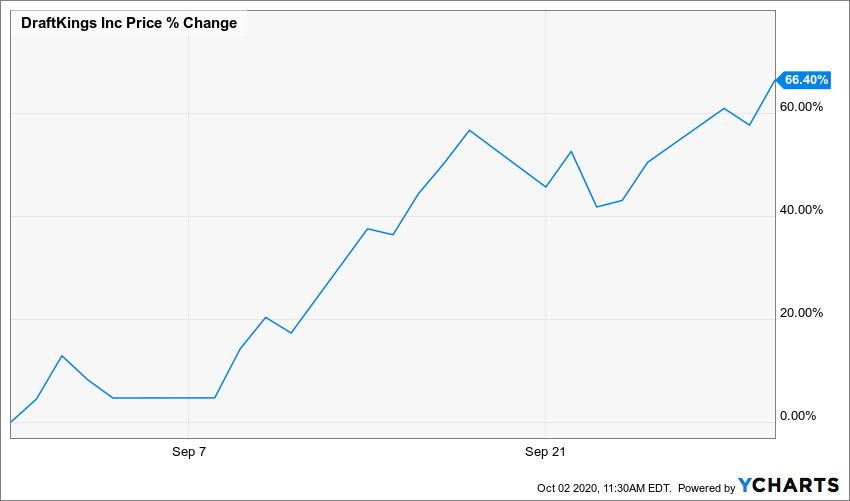 Back when I first chose DraftKings for the GTCF in June, I said it was a "fun" buy, but I also said it was not just a lark.
I believe enough in DKNG's future prospects to also have bought $5,000 worth of it for my personal portfolio, so I obviously am thrilled with how it has done so far.
Costco Kills It
As is so often the case, Costco turned in a tremendous earnings report for both the fourth quarter and full year.
The company doesn't need a pandemic to do well, but with people eating out less and feeling they need more stuff at home to entertain themselves, Costco easily beat earnings and revenue estimates.
And with more folks shopping from home, e-commerce sales increased an incredible 91%.
On Oct. 1, Pepsi (PEP) and Constellation Brands (STZ) had solid earnings presentations as well; several other GTCF companies also will report in October, and I will cover them in my next update.
Happy Days For Happy Meals
Often viewed as more of an income-producing company, McDonald's (MCD) can deliver some serious growth, too.
For example, UBS's analysts are anticipating vastly improved earnings, cash flow, sales and market-share gain for the company over the next two years.
The red-circled area of the following FAST Graphs image illustrates MCD's recent years of double-digit earnings growth; the yellow highlight shows anticipated growth for 2021 and 2022, presumably after the COVID-19 crisis is resolved.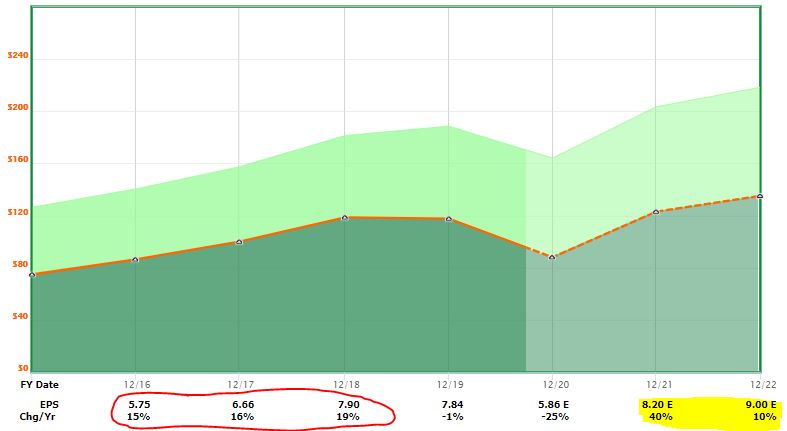 Let's Talk Income
The GTCF is in such early stages that it is not a big income-producer yet. Using current figures, it is expected to generate only about $27 in dividends over the next year.
That's not enough for a month of internet use, let alone a major chunk of college costs.
A decade or two from now, however, the portfolio will be churning out some nice income, so I still think it's relevant to discuss the growth here in the formative years.
Microsoft, Texas Instruments and Lockheed Martin delivered pretty big in September, with an average raise of 10.5%.

The green-shaded column in the table above shows each company's increase; the blue-shaded column reflects how much income each will contribute to the portfolio over the coming year.
All dividends are reinvested into the companies that issue the payments, a process informally known as "dripping."
Six GTCF companies paid dividends in September, meaning six added fractional shares via drip.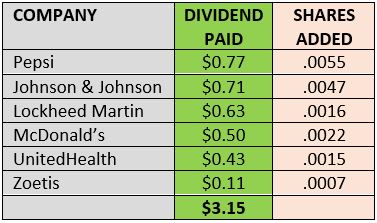 Sure, it's almost cute that the portfolio added 7/10,000ths of a share of Zoetis in September. But down the line, thanks to compounding, even a low-yielder like ZTS will contribute real money to the GTCF's income stream.
Wrapping Things Up
Several companies in the Grand-Twins College Fund also are represented in the other real-money, public portfolio I manage, DTA's Income Builder Portfolio.
I will write about my next IBP stock selection for an article scheduled to be published Tuesday, Oct. 6. Until then, check out the entire 35-position portfolio HERE.
About $2,000 a month is invested into the IBP, so Logan and Jack would have even bigger smiles if they could get their hands on that dough someday.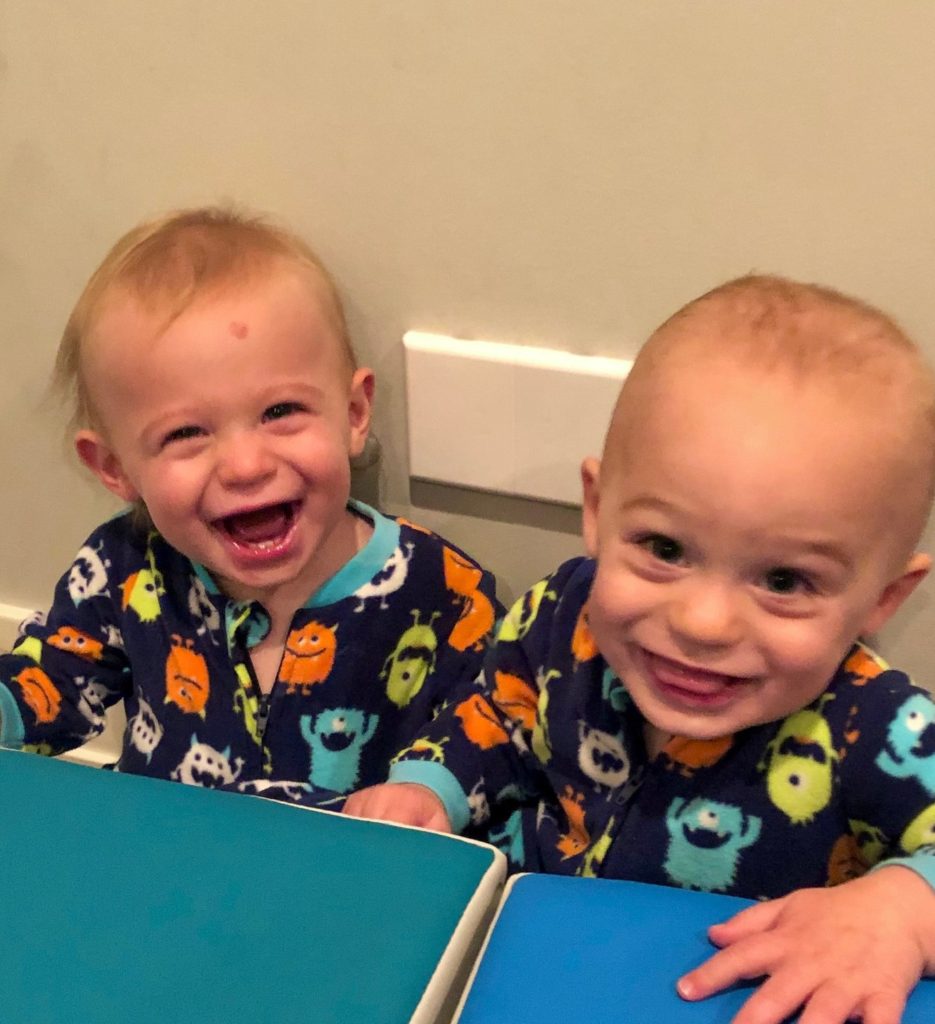 Sorry, you rascals, but my boss provides the IBP's seed money, so he will get all the gains, too. That's only fair!
Nevertheless, I think "LoJack" (and their parents) will be pretty pleased with what's in the Grand-Twins College Fund years from now.
Their Grandpa sure likes how everything is going according to plan so far.
— Mike Nadel
Source: Dividends and Income