This article first appeared on Dividends & Income
If you are fortunate enough to have invested in amazing Amazon (AMZN) anytime since … well … ever, just the thought of it has to make you smile.
That's obviously the case for these two happy shareholders, my grand-twins Logan (left) and Jack.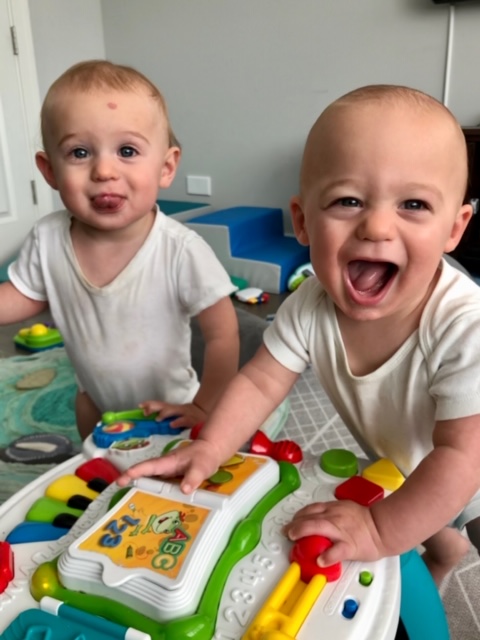 My Grand-Twins College Fund has come along very nicely since I launched it last month. And while Amazon deserves some credit, it does not deserve anywhere near all the credit.
Indeed, Amazon is only the portfolio's second-best performing stock so far by total return. Zoetis (ZTS), the animal health-care company, earned that honor.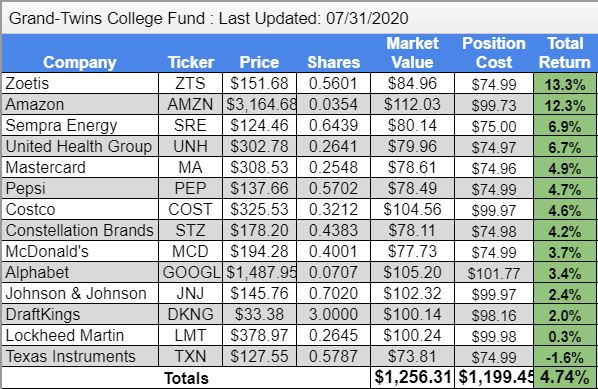 Of course, given that I just introduced the GTCF, it's way too soon to "keep score" … and that's not what this real-money, growth-and-income portfolio is about, anyway.
In addition to the obvious — investing so I can help "LoJack" pay for college 18 years or so down the line — the idea is to demonstrate how investing regularly in quality companies, even in small amounts, can result a pretty big payoff.

Although the plan is to invest about $100 per month, I wanted to get this thing off the ground with a $1,200 investment before Jack and Logan turn 1 in August.
I kicked things off in mid-June by buying Amazon, Alphabet (GOOGL), Constellation Brands (STZ), Johnson & Johnson (JNJ), Lockheed Martin (LMT) and UnitedHealth Group (UNH). (I detailed those purchases, wrote briefly about each company, and discussed the GTCF's guidelines HERE.)
Later that month, I added 6 more companies: Zoetis, Costco (COST), DraftKings (DKNG), Mastercard (MA), Pepsi (PEP) and Sempra Energy (SRE). (Read more about those buys HERE.)
I added only two new companies in July: McDonald's (MCD) and Texas Instruments (TXN), while increasing my stake in each of the first dozen stocks.
The following chart lists my July buys: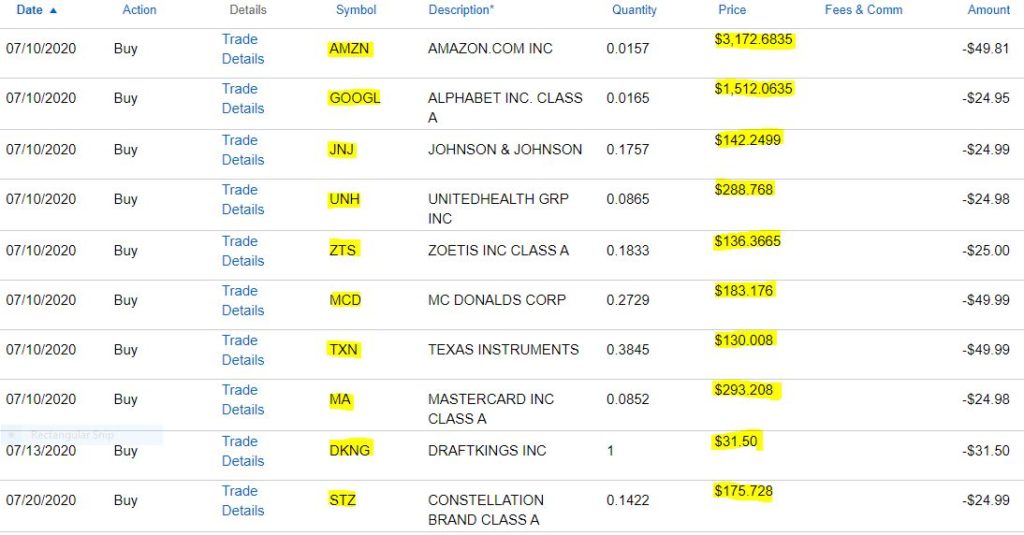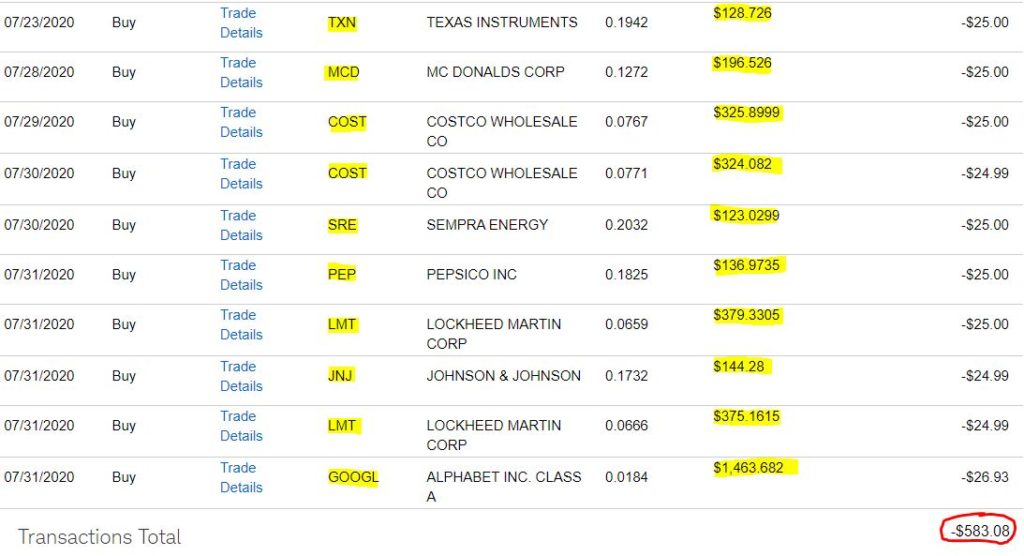 Add that $583 to the $616 I spent in June, and it makes the total two-month spend just shy of $1,200.
The Newcomers
Here is a look at the "quality metrics" of McDonald's and Texas Instruments, followed by a brief capsule on each company.

McDONALD'S
Comparable-store sales declined 24% in the second quarter, even a little worse than analysts had expected, and McDonald's earnings dropped hard after having scored double-digit growth the previous three years.
But Mickey D's is hardly alone in its industry in getting beaten up by the global coronavirus pandemic, and it remains by far the dominant player.
In 2018, for example, McDonald's sales were greater than the next 10 burger chains combined.
TEXAS INSTRUMENTS
The world's largest analog chipmaker has navigated the pandemic well, beating estimates by a wide margin in the most recent quarter.
In addition to being the leader in its field, I like that TXN has paid uninterrupted dividends for six decades, that it has very low debt, and that its superior fundamentals have been making shareholders happy for years.
Texas Instruments probably won't be as fun for Logan and Jack to keep tabs on as McDonald's will be. After all, even ketchup can't make semiconductors taste good.
I nonetheless believe my grand-twins will be glad this high-quality company will have been working for them since before their first birthday.
Updating Other GTCF Holdings
Earnings season is in full swing, and it's been a busy, newsworthy and mostly successful stretch for the dozen other companies in the Grand-Twins College Fund portfolio.
A few highlights:
Amazon absolutely killed it, with year-over-year revenue climbing some 40%, and analysts are falling all over themselves to raise their price target. After Heath Terry of Goldman Sachs lifted his target to a Wall Street-high of $4,200, Bespoke Investment sent out this fascinating tweet:

Google's parent company, Alphabet, also received several huge price-target hikes even though advertising revenue declined significantly and operating income also fell due to the pandemic.
Johnson & Johnson not only beat estimates but raised its full-year 2020 guidance.
Costco was the first major retailer to require that all customers wear masks, an announcement that had some "freedom lovers" threatening a boycott. Apparently, those selfish mouth-breathers didn't get the job done, as Costco's comparable sales were up 11.5% in June. Additionally, e-commerce sales jumped.
As good as Mastercard's business model is, even it isn't coronavirus-proof — its earnings were down 28% year-over-year. Still, that beat analysts' estimates by a wide margin, and the stock price recovered quickly after dropping immediately following the report.
Betting site DraftKings has been on a yo-yo — every time it looks like pro and college sports are going to be able to compete, the stock price goes up; every time there is negative news (such as most of the Miami Marlins baseball team testing positive for COVID-19), the price dives. Oh well, I knew DKNG was speculative when I bought it.
Lockheed Martin saw earnings and revenues skyrocket. Coronavirus or not, weapons of mass destruction never go out of style.
And finally, there's the portfolio's top performer so far, Zoetis.
I took a look around the internet, including the company's own website, and found just about no news for well over a month — and certainly nothing big that would move the market either way.
And yet investors just keep buying shares of this well-run, wide-moat company that analysts love because it keeps producing.
Wrapping Things Up
So far, UnitedHealth Group is the only GTCF holding to have paid a dividend: The 22-cent bounty received on June 30 was reinvested, buying a whopping .0007 of a share of UNH.
OK, so dividends aren't a very big part of this portfolio yet.
I call the Grand-Twins College Fund a "growth-and-income" project. Three companies pay no dividends at all, three others have yields lower than 1%, and the portfolio's overall yield is a mere 1.5%.
For those who also are interested in Dividend Growth Investing, I hope you already have discovered the Income Builder Portfolio, which I have been managing for Daily Trade Alert since January 2018. See it HERE.
I'm proud of the work we've done with the IBP, but you won't find Amazon there — or even Zoetis.
Oh, and you also won't find many cute photos of LoJack being "helpful" in the kitchen.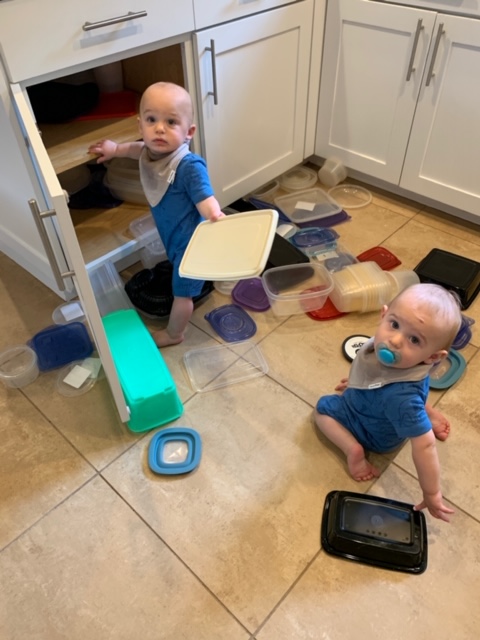 As always, investors are strongly urged to conduct their own due diligence before buying any stocks.
— Mike Nadel