What Happened in December, 2016
Received $332 in dividends, bringing this year's total to $3365. That is about 4% more than received in 2015.
The portfolio ended the year worth $94,232, up about 15% for the year. The portfolio is up +101% over its lifetime. That includes reinvested dividends.
The portfolio's current yield is 3.7%, same as last month. (The yield varies a little month-to-month as dividend payouts and stock prices change.)
For 2016, the portfolio yielded 4.1% on its starting value of $82,240 at the beginning of the year.
The portfolio's yield on cost – the annual projected dividend divided by the portfolio's original cost in 2008 – remained at its all-time high of 7.4%.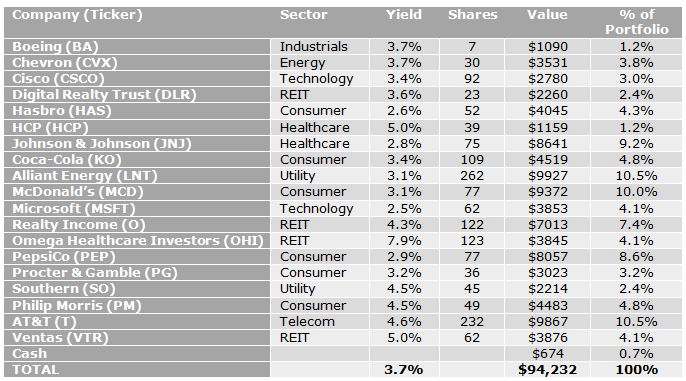 Data updated December 31, 2016
Two positions – Alliant Energy and AT&T – are slightly over my guideline of 10% maximum position size in the portfolio. In the early part of 2017, I will investigate whether to sell some of either stock to bring its size back within my guideline.
Transactions in December

No buys or sells.
Received dividends from Boeing, Johnson & Johnson, Southern, Microsoft, Chevron, Coca-Cola, McDonald's, Realty Income, and Ventas.
PepsiCo usually pays in December, but its payment slipped into January.
Dividend Reinvestments
I allow incoming dividends to accumulate in cash. I reinvest them when they hit $1000.
In 2016, I made 4 dividend reinvestments: I started new positions in Cisco (February), Southern (May), and Boeing (August). In November, I added to the Cisco position.
Collecting dividends and reinvesting them in $1000 chunks allows me to diversify the portfolio over time and to change the relative sizes of positions. The next dividend reinvestment will probably be in March, 2017.
Dividend Increase Calendar for 2017
The table below shows the schedule of dividend increases for 2017. The right-hand column shows 2016's increases for comparison.
Three increases have already been announced, including a big 30% increase for Boeing payable in March.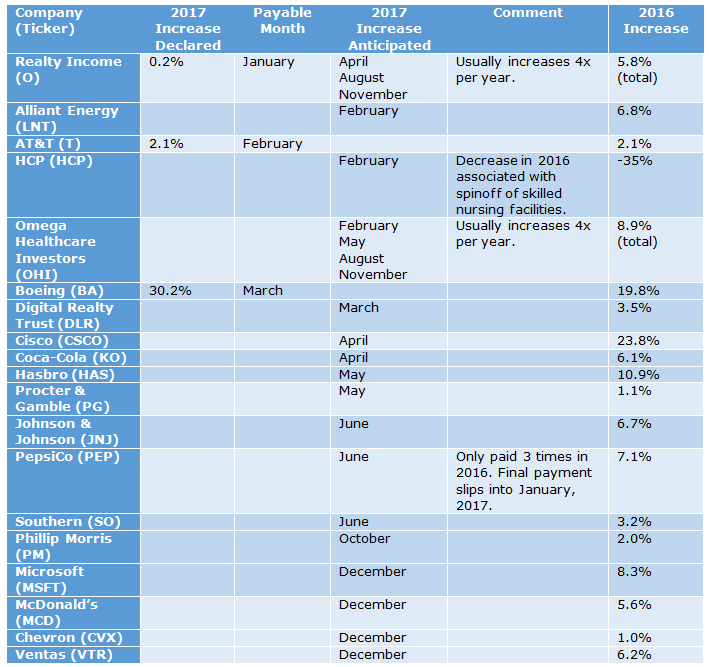 Here is how the coming year's dividends are portrayed at E-Trade. Please note that this chart reflects none of the anticipated dividend increases, so the actual income for the year should be higher.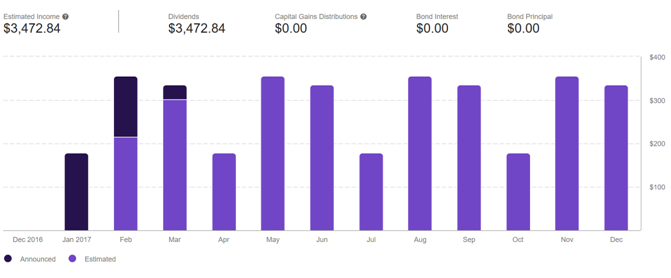 Consistent Dividend Growth
This portfolio is designed to generate a steady stream of growing dividends. I eventually intend to live off the income in retirement (whereas now I reinvest it).
Increases in the portfolio's dividend stream come from two sources.
Companies raise their dividends regularly.
New shares are added through dividend reinvestment. The new shares generate dividends of their own, thus increasing the total income cash flow.
The bar graph below shows the dividends that I have received each year since the portfolio was started. 2016's income finished up about 4% from 2015.
I have also added, for the first time, estimates for 2017 and 2018. I simply added 7% each year to get the estimates. I will track actual dividends with a red dot. Right now, of course, the dot sits at $0 for 2017.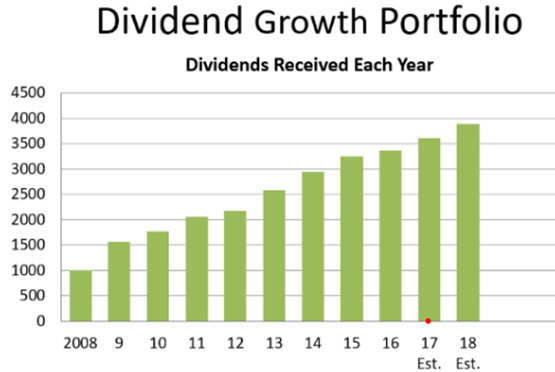 The rising green bars illustrate the core goal of dividend growth investing: Growing income. If new money were being added, of course, the rate of dividend growth would be faster. That is typically what someone in their accumulation years experiences.
Total Return
Dividend growth investors get good total returns too. The focus on quality companies, dividend reinvestment, and purchasing at good valuations tends to produce good total returns.
The value of the portfolio rose 4% in December and 15% for the year. It has grown 101% from its original size in June, 2008. It started with $46,783. It is now worth $94,232.
If the same money had been invested in the S&P 500 Index via the ETF called SPY, with dividends reinvested, it would have increased 92% to a total value of $89,823.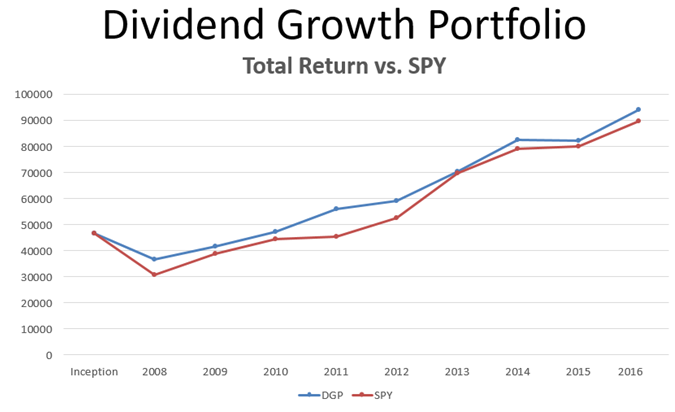 Background: What is the Dividend Growth Portfolio?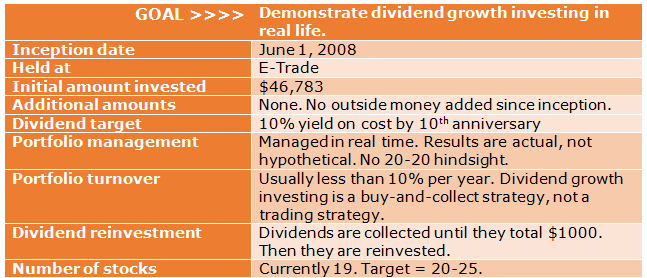 To see the Business Plan for this portfolio, click here. To learn more about the origins of the portfolio, see An Introduction to My Real-Money Dividend Growth Portfolio.
Remember, the DGP is not presented as best or a model. Rather, its purpose is to provide a live demonstration of what you can accomplish with dividend growth investing, and what it is like to run a real portfolio.
– Dave Van Knapp
For a list of all of my articles about my portfolio, see below.
Dividend Growth Portfolio Articles
I Just Bought Another $1,000 Worth of Cisco (CSCO)- November 3, 2016
I Just Bought Boeing (BA) For My Dividend Stock Portfolio- August 10, 2016
I Just Bought 45 Shares of Southern Company (SO)- May 6, 2016
I Just Bought 47 Shares of Ventas (VTR)- April 14, 2016
I Just Bought 60 Shares of Cisco (CSCO)- February 16, 2016
I Just Sold My Shares of Kinder Morgan (KMI)- December 14, 2015
I Just Bought Another 30 Shares of AT&T (T) - November 23, 2015
My Dividend Growth Portfolio Delivers a 7%-Plus Yield on Cost Already - October 17, 2015
I Just Reinvested $1,000 in Philip Morris International (PM) – August 27, 2015
I Just Bought Another 24 Shares of Coca-Cola (KO) – May 26, 2015
Why I Decided to Hold All 19 Stocks in My Dividend Growth Portfolio – April 15, 2015
Why I Sold Some Johnson & Johnson (JNJ) and Pepsi (PEP) – January 24, 2015
I Just Bought Another 30 Shares of AT&T (T) - January 14, 2015
This Portfolio Generates Dividend Income That Rises 15% Per Year - November 10, 2014
I Just Bought More Shares Of Procter & Gamble (PG) - October 1, 2014
I Just Sold Lorillard (LO) and Bought HCP Inc. (HCP) - July 16, 2014
This Real-Money Portfolio is a Cash Machine - July 10, 2014
I Just Bought Ventas (VTR) for My Real-Money Portfolio - May 28, 2014
I Just Sold Darden Restaurants (DRI) - April 11, 2014
Why I Sold All of My Shares of Intel (INTC) - March 31, 2014
An Introduction to My Real-Money Dividend Growth Portfolio - March 15, 2014