Holdings in the Dividend Growth Portfolio
Updated October 1, 2017. Stocks added this year are highlighted in the left column.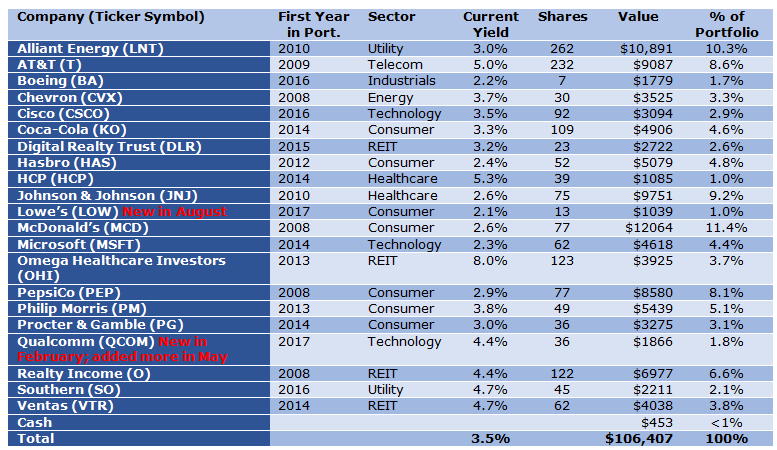 What Happened in September 2017
The portfolio received $405 in dividends from 12 of the 21 companies in the portfolio.
So far this year, 67 dividend payments totaling $2771 have been received. That is about 9% more dollars than at the same time last year.
The portfolio's current yield is 3.5%. That has remained unchanged since May, as dividend growth and price growth have kept pace with each other.
The portfolio's yield on cost – meaning the annual dividend cash flow divided by the portfolio's original value in 2008 – reached a new all-time high of 8.0% this month. The portfolio is now paying back 8% of the original dollars invested per year.
No purchases or sales were made in September.
The portfolio ended September worth $106,407, down $400 from last month. It is up 13% for 2017 and +127% over its lifetime (9.3 years). The portfolio's total return includes the compounding impact of dividend reinvestments throughout its lifetime.
Transactions in September
Last month, the portfolio received dividends from 12 of its 21 stocks. Payments came from Boeing (BA), Chevron (CVX), Digital Realty Trust (DLR), Johnson & Johnson (JNJ), McDonald's (MCD), Microsoft (MSFT), PepsiCo (PEP), Qualcomm (QCOM), Realty Income (O), Southern (SO), and Ventas (VTR).
No stocks were bought or sold in September.
Dividend Payments for October
This display from E-Trade shows that just 4 companies will pay into the portfolio in October. Payments each month rise and fall according to the payment schedules for each company. October is a slow month.

Dividend Reinvestments
I collect dividends in cash. I reinvest the cash when it totals $1000. Right now it's at $453.
I expect the dividends will accumulate back up to $1000 in November or December. That means there will be one more dividend reinvestment in 2017.
There have already been 3 dividend reinvestments this year. Please see these articles for more information:
Dividend Increase Calendar
The table below shows the schedule of dividend increases for 2017. Increases announced in the past month are highlighted in 2nd column. The right-hand column shows 2016's increases for comparison.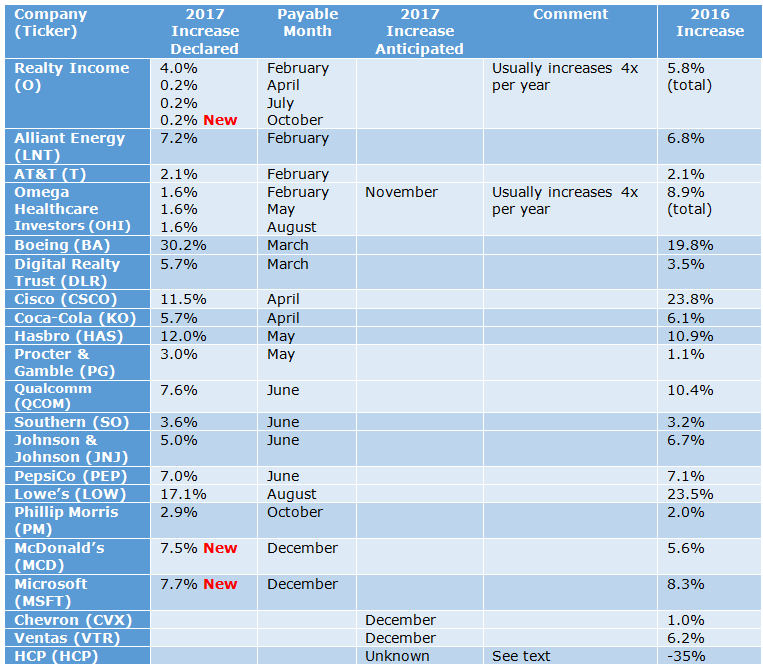 That makes 23 raises so far this year for the portfolio's 21 stocks. Note: I mis-wrote last month that Phillip Morris had announced a disappointing increase of 2.0% in August. The actual number was better: 2.9%. I apologize for the error.
HCP did not discuss raising its dividend during its 2nd-quarter conference call. I am monitoring the stock for news about the dividend since a cut last year made in connection with a spinoff. I continue to hold it despite the cut, because (1) I expect at some time they will resume annual increases, (2) it is such a small position in the portfolio, and (3) its yield is quite high. Before the cut in 2016, HCP had been a Dividend Champion with 31 straight years of increases.
Simply Safe Dividends rates the safety of HCP's dividend at 60 out of 100 points, unchanged from last month and still in the "safe" zone.
12-Month Anticipated Dividends
Here is the display by E-Trade of expected dividends over the next year. Payments that have already been announced are shown in black, and they include dividend increases already declared. Estimated amounts are shown in purple; they simply assume repetition of current payout rates without increases. This is the standard way to project dividends for a stock portfolio until new payout rates are declared.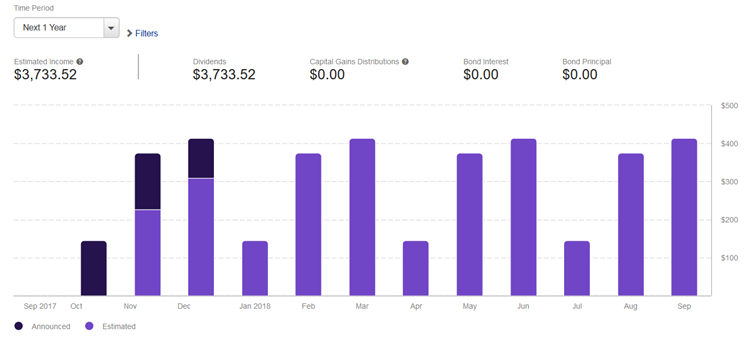 This 12-month estimate is about 8% higher than at the same time a year ago.
Yield on Cost and Current Yield
Yield on cost is the portfolio's yield on the original money invested when I started the portfolio. The projected 12-month total is used to calculate yield on cost: $3734 / $46,783 = 8.0%. That is the highest ever recorded for this portfolio.
What it means in a nutshell is that the portfolio is now paying me dividends at the rate of 8.0% of the original investment each year.
I also use the 12-month dividend projection to calculate current yield: $3734 / $106,407 = 3.5%. In other words, the portfolio is projected to yield 3.5% on its current value over the coming 12 months.
The 3.5% current yield has remained unchanged for several months. In the past, it has often varied from  month to month, as dividend increases are announced and the portfolio's total value fluctuates. Minor variations have no long-term significance.
Please note that whatever the current yield happens to be, it is a percentage calculation. The actual payouts of dollars continue to increase as dividend increases kick in and new shares are purchased, even if the current yield remains steady or even drops.
For comparison to this portfolio's 3.5% yield, the S&P 500's current yield is 1.9%. The 10-year Treasury rate is 2.3%.
Consistent Dividend Growth 
The stocks for the Dividend Growth Portfolio have been picked for their ability to generate a steady stream of growing dividends. I eventually intend to live off the dividends in retirement (whereas now I reinvest them).
Increases in the portfolio's dividend stream come from two sources.
• Companies raise their dividends regularly. See the Dividend Increase Calendar above.
• New shares are added through dividend reinvestment, as illustrated by the addition of Qualcomm and Lowe's this year. The new shares generate dividends of their own, thus increasing the total income flow.
The bar graph below shows the dividends that I have received each year since the portfolio was started.
The rising green bars illustrate the core goal of this portfolio: Reliable growing income. The 2017 and 2018 green bars are estimates, representing 9% anticipated increases each year.
The red dot on the 2017 bar shows the actual dividends received thus far in 2017, which is $2771.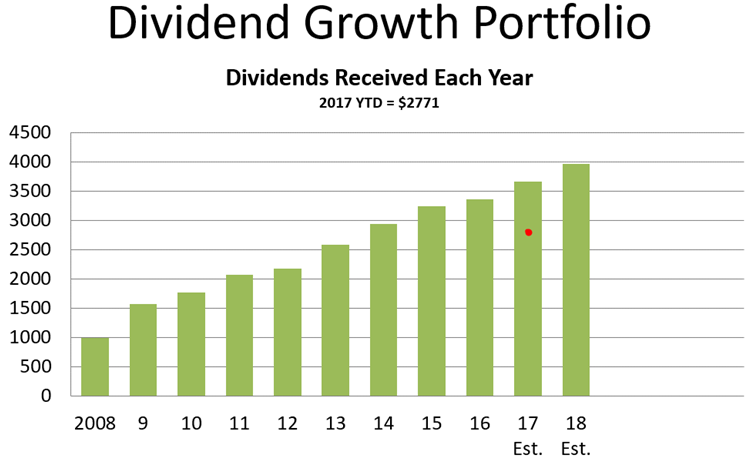 Total Returns
Dividend growth investors get good total returns too. That's no surprise! Consistently buying and collecting shares of quality dividend growth companies, reinvesting their dividends, and purchasing at good valuations tends to produce good total returns as well as a healthy income stream.
The value of the portfolio has grown 127% from its original size in June, 2008. It started at $46,783. It is now worth $106,407.
If the same money had been invested in the S&P 500 Index via the ETF called SPY, with dividends reinvested, it would have increased 119% to a total value of $102,455. That portfolio would be yielding 1.9% compared to the DGP's 3.5%.
Background: What is the Dividend Growth Portfolio?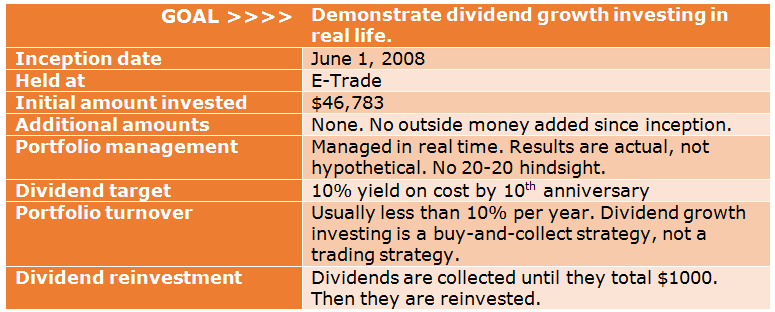 To see the Business Plan for this portfolio, click here. To learn more about the origins of the portfolio, see An Introduction to My Real-Money Dividend Growth Portfolio.
Remember, the DGP is not presented as best or a model. Rather, its purpose is to provide a live demonstration of what you can accomplish with dividend growth investing, and what it is like to run a real portfolio.
— Dave Van Knapp
For a list of all of my articles about my portfolio, see below.
Dividend Growth Portfolio Articles
I Just Bought Lowe's (LOW) for My Dividend Growth Portfolio– August 28, 2017
I Just Bought Another 18 Shares of Qualcomm (QCOM)– May 18, 2017
I Just Bought 18 Shares of Qualcomm (QCOM) for My Dividend Growth Portfolio– February 21, 2017
I Just Bought Another $1,000 Worth of Cisco (CSCO)– November 3, 2016
I Just Bought Boeing (BA) For My Dividend Stock Portfolio– August 10, 2016
I Just Bought 45 Shares of Southern Company (SO)– May 6, 2016
I Just Bought 47 Shares of Ventas (VTR)– April 14, 2016
I Just Bought 60 Shares of Cisco (CSCO)– February 16, 2016
I Just Sold My Shares of Kinder Morgan (KMI)– December 14, 2015
I Just Bought Another 30 Shares of AT&T (T) – November 23, 2015
My Dividend Growth Portfolio Delivers a 7%-Plus Yield on Cost Already – October 17, 2015
I Just Reinvested $1,000 in Philip Morris International (PM) – August 27, 2015
I Just Bought Another 24 Shares of Coca-Cola (KO) – May 26, 2015
Why I Decided to Hold All 19 Stocks in My Dividend Growth Portfolio – April 15, 2015
Why I Sold Some Johnson & Johnson (JNJ) and Pepsi (PEP) – January 24, 2015
I Just Bought Another 30 Shares of AT&T (T) – January 14, 2015
This Portfolio Generates Dividend Income That Rises 15% Per Year – November 10, 2014
I Just Bought More Shares Of Procter & Gamble (PG) – October 1, 2014
I Just Sold Lorillard (LO) and Bought HCP Inc. (HCP) – July 16, 2014
This Real-Money Portfolio is a Cash Machine – July 10, 2014
I Just Bought Ventas (VTR) for My Real-Money Portfolio – May 28, 2014
I Just Sold Darden Restaurants (DRI) – April 11, 2014
Why I Sold All of My Shares of Intel (INTC) – March 31, 2014
An Introduction to My Real-Money Dividend Growth Portfolio – March 15, 2014
SaveSave
SaveSave