NATURAL GAS PRODUCERS ARE RECOVERING
Right now, natural gas producers are recovering from a prolonged downtrend.
For years, we've been telling readers about the massive amounts of cheap natural gas trapped in American shale deposits like the Eagle Ford in Texas.
New technologies like hydraulic fracturing (fracking) to extract shale gas have created an explosion of U.S. natural gas reserves.
In 2011, U.S. natural gas production jumped 6.5% – the biggest one-year increase in nearly 30 years.
As with any commodity, the jump in supplies hurt natural gas prices.
After trading in the $4 to $6 per mcf (thousand cubic feet) range during 2010, prices collapsed below $2 earlier this year.
Shares of the big natural gas producers plunged 40% to 60% in just 12 months.
Smaller producers fared even worse.
As today's chart shows, the long downtrend is ending. Since retesting its lows in April, natural gas bellwether Encana (ECA) is up nearly 28%. That coincides with a rebound in natural gas prices to the mid-$3 area over the past six months.
While it's too early to call it a new bull market in natural gas given the massive supply, for now, producers are recovering. Energy investors should take notice.
– Larsen Kusick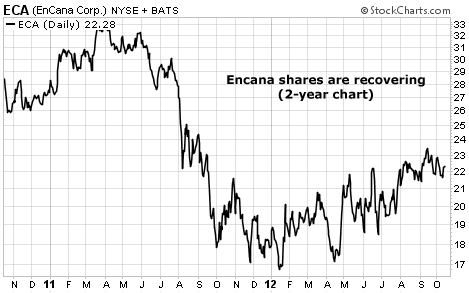 Source: Market Notes