AN INCREDIBLE PERFORMANCE BY "THE DEPOT"
Over the past year, Home Depot has turned in an incredible performance… and it's another sign that "things can't be all that bad" with the U.S. economy…
In 2012, we've highlighted many charts that reveal an important idea: While the news for the U.S. economy isn't rosy, it can't be all that bad.
For example, we've noted the tremendous share price strength in
high-end homebuilder Toll Brothers
and
giant hotel operator Wyndham Worldwide
.
Another major development here is the soaring share price of Home Depot (HD).
As America's largest home improvement chain, it rises and falls on the country's ability to spend money on new bathrooms, remodeled kitchens, and backdoor patios.
This makes the share price of Home Depot a good gauge of what's happening in America.
Today's chart of Home Depot shows how things are really, really "happening."
Over the last 12 months, shares are up nearly 100%. And the stock is closing in on its all-time high, last seen over a decade ago. We know our readers are bombarded with claims that the U.S. economy is in the toilet. And sure, someday it might be.
But as long as Home Depot is doing brisk business and enjoying a huge bull market, we'll say "things can't be all that bad."
Trade accordingly!
– Brian Hunt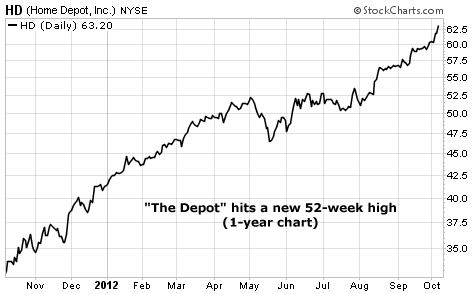 Source: Market Notes