A WARNING FOR BOND BUYERS
Investors who've piled into the bond market over the last year may soon be disappointed.
A month ago, my colleague Jeff Clark told readers it was "decision time for interest rates."
The 10-year Treasury yield popped above resistance, signaling a possible trend change.
For the last several weeks, rates have crept higher.
And that's bad news for bond investors.
Treasury bonds have an "inverse" relationship with interest rates – when one goes up, the other goes down.
And falling interest rates since 2008 have provided a massive boost to Treasury bonds.
During that time, big bond funds like the iShares Barclays 20+ Year Treasury Bond Fund (TLT) are up 70%-plus. But TLT has just shifted into a downtrend…
As you can see in today's chart, since interest rates bottomed in late July, TLT has made a series of "lower highs" and "lower lows."
The uptrend in Treasury bonds may be over…
– Larsen Kusick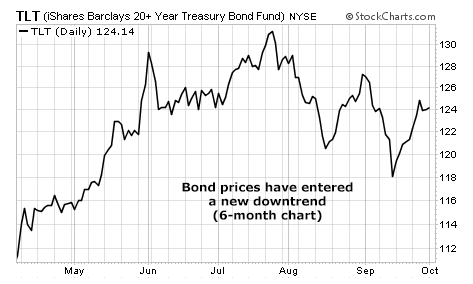 Source: Market Notes