It's decision time for interest rates.
One month ago, the yield on the 10-year Treasury note popped above resistance at 1.58%, signaling a possible trend change.
It spiked sharply higher on the breakout.
But over the past couple weeks, interest rates have come back down to retest the breakout level – which is now support.
The next move from here will tell us all we need to know about where rates are headed over the next few months.
If support holds and interest rates bounce, look for higher rates by the end of the year.
On the other hand, if the 10-year yield drops through support at 1.58%, homeowners may get another chance to refinance their mortgages by Christmas.
– Jeff Clark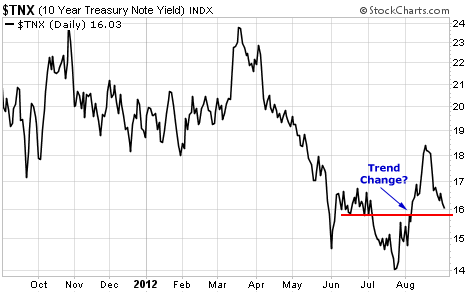 Source: Market Notes