IT'S TIME TO GET CAUTIOUS TOWARD THE OIL SECTOR
The oil rally may be nearing an end.
The price of a barrel of the gooey black stuff bottomed two months ago at about $78.
That was when just about everyone was talking about how the price was headed to $50 or lower.
Now, after a 20% rally, everyone seems convinced oil is headed skyward once again.
The following chart suggests that may not be the case.
Oil is tracing out a "bearish rising-wedge pattern."
And it's bumping into the resistance line of the wedge.
These patterns usually break down. If that happens to oil this time, it could revisit the June lows and erase all the gains of the past two months.
– Jeff Clark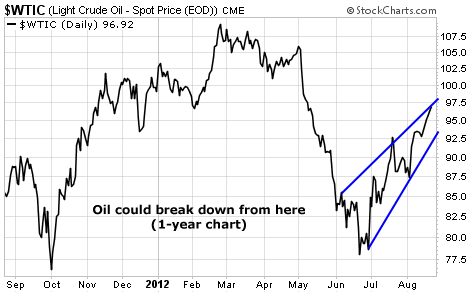 Source: Market Notes