AN INCREDIBLE GAIN FROM A TOP "BASICS" IDEA
Today's chart shows that you can make huge money in the basics…
Regular readers know that when it comes to investing in high-growth emerging markets – like Brazil, India, and China – we're drawn to "the basics" approach of owning dominant global companies that sell things like soda, beer, and cigarettes to these markets.
"Boring" products like these enjoy steady demand… And there's scant risk that a new technology will make having a beer after work obsolete.
Plus, well-run companies in these industries generate huge cash flows and big dividends.
We've mentioned Philip Morris International (PM) many times as a way to take advantage of this idea.
The stock is a favorite of our colleague Dan Ferris.
It's one of the world's dominant cigarette makers… And it has tremendous exposure to the world's growing economies.
Readers who took our advice a few years ago have made more money here than we expected.
A steady gain of 10%-15% per year is a great result with a basics stock. But PM has produced a total return of 85% since this note two years ago.
It's an incredible gain from owning the basics.
– Brian Hunt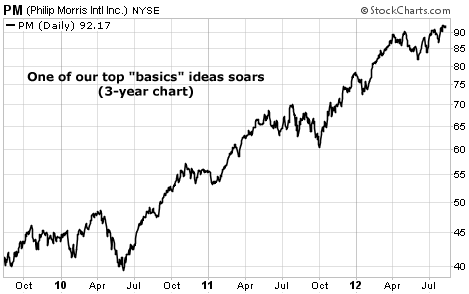 Source: Market Notes