OUR IPO WARNING IS COMING TRUE
Amateur investors are learning a painful lesson…
Longtime readers are familiar with our negative view on initial public offerings (IPOs).
The IPO process is dominated by Wall Street banks and other insiders who want to sell shares to the public at the highest possible price.
Long-term investors are almost always left "holding the bag" when the company's future results don't match the hype.
Over the past year, no sector has been more hyped-up than "social media."
Frenzied investors rushed into the IPOs of companies like Facebook (FB), Zynga (ZNGA), and Groupon (GRPN) … paying ridiculous prices relative to the low (or negative) earnings of these businesses.
Last week, Facebook and Zynga each fell more than 20% in a day after their quarterly results showed slower-than-expected growth.
After just a few months, IPO investors who got caught up in the "social media" hype have lost 40%-70%.
They've learned an expensive lesson: it rarely pays to buy what Wall Street is hyping.
– Larsen Kusick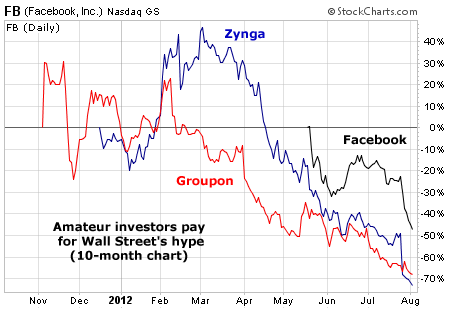 Source: Market Notes