THE GOLD BULL MARKET IN EUROS
Most Americans haven't noticed, but gold is very close to reaching an all-time high.
This high is gold measured against the euro.
Regular DailyWealth readers know we often preach the idea that there are always two sides to a price.
On one side, you have the product, service, or asset being measured.
On the other side, you have your "measuring unit," like dollars, Swiss francs, or "real money" (gold).
Keeping "two sides to a price" in mind lets you see things others do not.
And once you understand this idea, you're liable to answer questions like, "Did stocks rise today?" with, "Rise relative to what?"
For example, gold is 17% off its 2011 high when priced in U.S. dollars.
This decline has a lot of people declaring the end of the gold bull market. But when we price gold in the weakening euro, we see it's very close to reaching a three-year high (also an all-time high).
The euro is the "paper of the realm" in the world's largest economic region. And in the eyes of the people who use it, gold is still rising.
– Brian Hunt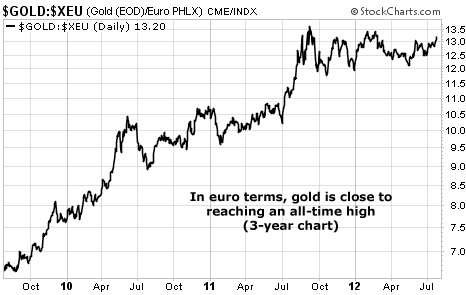 Source: Market Notes